IFSW is establishing an Education Commission with the aim of closing the gap between social work education and practice. IFSW members and social work educators have together raised concerns over a long time about the relevance and consistency between education programmes and practice policies and requirements. This has resulted in many countries recognising that social workers leave the profession within five years of completing their training.
The lack of implementation of agreed global educational standards that bind theory and education with practice, policies and guidelines has been instrumental in widening the gap between social work education and practice. Ultimately people who use social work services drop through the gap.
The interim Education Commission will be led by Professor Mariko Kimura and Professor Vasilios Ioakimidis and supported by representatives from each of the five regions of IFSW.  Their task will be to create a process with policies and criteria for consultation that will be presented for approval to IFSW members at the next General Assembly in June 2018.
Vasilios Ioakimidis is a Professor of Social Work and Director of the Centre for Social Work at the University of Essex, UK. He has recently held the posts of Vice President of the EASSW, Chair of IASSW's Human Rights Committee, and continues as Editor in Chief of the IASSW /ICSW / IFSW journal International Social Work.  Mariko Kimura is a Professor of Social Work at Japan Women's University and is currently holds the office of President of IFSW Asia-Pacific. Both interim Commissioners have an extensive background in relating social work education to practice in many countries worldwide.
Ruth Stark President of IFSW said, 'The establishment of this Commission is an important and critical journey in the development of the social work profession. In the coming years, we hope to see that in bringing the schools of social work and practitioners closer together the result will be better social work services for people and our communities.'
IFSW Secretary General, Dr Rory Truell commented, 'The gap between social work education and practice has had major consequences in many countries often resulting in confusion about the social work role and the loss of opportunity to strengthen the impact and voice of the profession in supporting socially just, peaceful, inclusive societies. The problem stems from a historical separation of the professional bodies resulting in a gap between practice and education informing one another. By bringing social work education and practice into one professional body we can look forward to a much stronger, more focused social work profession'.
Upon ratification by the IFSW General Meeting next year, schools of social work that meet the criteria will be able to be recognized by IFSW and be able to use IFSW endorsement.
As a starting point the Executive of IFSW has asked the interim Education Commission to consult on the following draft criteria:
That social work schools or departments develop and teach curriculum that is consistent with IFSW policies.
That there must be a minimum percentage of a relevant assessed practice component in all practitioner social work qualifications
That the majority of teaching staff must be qualified social workers with access to practice experience. All social work teaching staff must be full members of the IFSW member organization in their country.
That people who use social work services are involved in the formation and delivery of the education programme.
That the school or department must reflect the culture of social work practice through engaging in relevant social work practice activities. This could be with a geographical community or community of interest.
The vision of the IFSW Executive is that once social work schools have been recognised for their compliance with the criteria agreed by the profession they will be admitted into the forums of IFSW.
The interim Education Commissioner's, Vasilios Ioakimidis and Mariko Kimura stated:
'The creation of IFSW's Education Commission is a historical step for the social work profession. It has been informed by a genuinely inclusive and forward-thinking vision. We are very confident that the creation of this Commission will strengthen social work education and practice globally, bringing about much needed unity.
In the next few months, commissioners and regional representatives will work towards developing policies and structures that are ambitious, realistic and reflect the vision of IFSW. During this process, we will be consulting widely with social work practitioners, educators and people who use social services, both at a regional and global level.
The complex challenges facing contemporary societies require integrated social work pedagogies that are firmly based on practice-based experience, critical reflection and research informed scholarship.'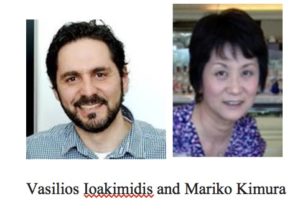 END