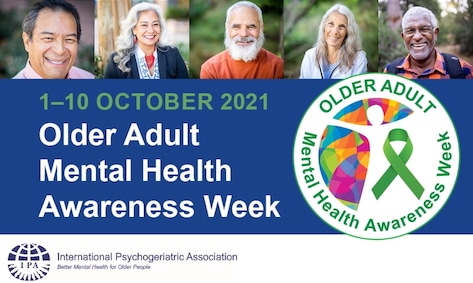 Working together to raise awareness and reduce stigma
On behalf of IFSW EUROPE we stand with the International Psychogeriatric Association (IPA) in recognizing 1-10 October as Older Adult Mental Health Awareness Week.
This exciting new initiative kicks off on 1 October with the UN International Day of Older Persons and will include daily programs, downloadable information, and video messages from supporters across the globe. Wrapping up on 10 October with a World Mental Health Day, Older Adult Mental Health Awareness Week aims to raise awareness around the impact of ageism on health outcomes and reduce stigma of mental health conditions.
Ways we can all participate:
 Share this email message with colleagues and friends
 Visit the Older Adult Mental Health Awareness Week – How To Participate page to find links to
downloadable graphics
 Post/ re-post social media messages in support of Awareness Week
 Contact media professionals and offer to be interviewed as a 'local expert" to a global initiative
As IFSW EUROPE professionals, we encourage everyone help us reach our goal: Better Mental Health for Older People.
To learn more about activities planned for Older Adult Mental Health Awareness Week and opportunities to participate, visit the website here: AwarenessWeek.ipa-online.org