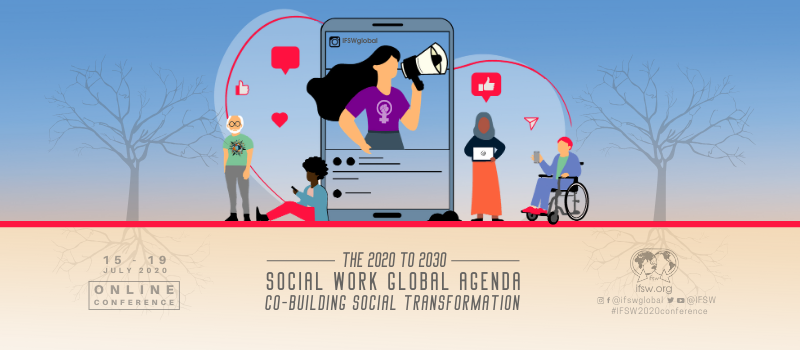 Esther U. Muinjangue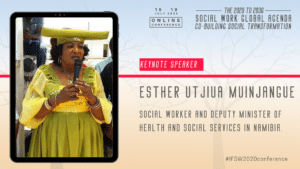 The conference will be opened by The Honorable Dr Esther Utjiua Muinjangue the Deputy Minister of Health and Social Services in Namibia. Dr Muinjangue is a social worker that applies the profession's principles at the political level. As both as Minister of Health and Social Services and as the leader of the main opposition party, she is leading a social justice programme of action that restores the human rights and dignity for all Namibians. In this address Dr Muinjangue will outline a vision for a world based on inclusion, participation and social justice and she will discuss the important role that social work has in implementing change.
Wanda Thomas Bernard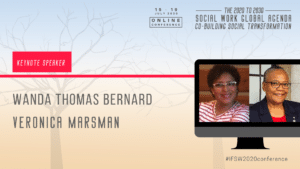 Title of her presentation: Dealing with Racism: Lessons Learned From Because We Matter
Dr. Wanda Thomas Bernard is a highly regarded social worker, educator, researcher, community activist and advocate of social change. She has worked in mental health at the provincial level, in rural community practice at the municipal level, and, since 1990, as a professor at the Dalhousie School of Social Work, where she also served as director for a decade. In 2016, she was appointed Special Advisor on Diversity and Inclusiveness at Dalhousie University and she is the first African Nova Scotian to hold a tenure track position at Dalhousie University and to be promoted to full professor. Dr. Thomas Bernard has worked with provincial organizations to bring diversity to the political processes in Nova Scotia and teach community members about Canada's legislative process and citizen engagement. She is a founding member of the Association of Black Social Workers (ABSW) which helps address the needs of marginalized citizens, especially those of African descent. As a former member of the Nova Scotia Advisory Council on the Status of Women, and as its past Chair, was instrumental in the development of advice to ministers regarding frameworks for gender violence prevention and health equity. At the national level, she has served as a member of the National Coalition of Advisory Councils on the Status of Women. She has served as an expert witness in human rights cases and has presented at many local, national and international forums. Dr. Thomas Bernard has received many honours for her work and community leadership, notably the Order of Nova Scotia and the Order of Canada.
Alicia Kirchner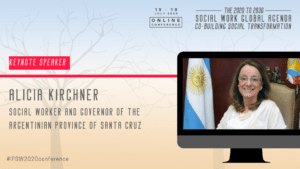 Title of her presentation: La Deconstrucción de la Reconceptualización del Trabajo Social || The deconstruction of social reconstruction
Dr. Kirchner is the Governor of the Argentinian province of Santa Cruz and internationally known and respected for her role in creating social change as a policy maker and government leader.
Dr. Kirchner was formerly the Minister of Social Development for Argentina (2003–2005, 2006-15) where her achievements included working with the Argentine Federation of Professional Associations of Social Service to pass the Federal Law of Social Work in Argentina, Law (No. 27.072.)
John Swinney
Title of his presentation Supporting Scotland's young people to grow up feeling loved, safe and respected – The Promise
John Swinney was appointed Deputy First Minister and Cabinet Secretary for Education and Skills for the Scottish government in May 2016. Born in 1964, he joined the Scottish National Party in 1979 and went on to graduate from Edinburgh University with an MA (Hons) in Politics. He has worked for the Scottish Coal Project, Development Options and Scottish Amicable.
Prior to his election as Westminster MP for North Tayside in 1997, he held a number of posts in the SNP at local and national level. In 1999, he became the MSP for Tayside North, remaining as the constituency's MP until standing down from Westminster at the 2001 General Election.
From 1998 to 2000, he served as deputy leader of the SNP, and then as party leader between 2000 and 2004. He was re-elected as an MSP at the 2011 Scottish Parliament election and appointed Cabinet Secretary for Finance and Sustainable Growth. He was appointed as Deputy First Minister and Cabinet Secretary for Finance, Constitution and Economy in November 2014.
Paul Ladd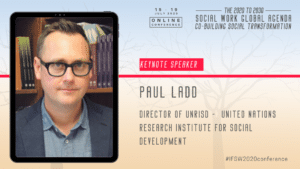 Title of his presentation: Social work in the next decade: challenges and opportunities
Paul Ladd has been Director of UNRISD since October 2015. Before taking up this position he had been at UNDP, where he had most recently been Director of the team supporting consultations and technical inputs for the 2030 Development Agenda.
Previously he led UNDP's policy team on 'inclusive globalization' – including trade, development finance, and migration. From 2008-2009, he provided support to the Office of the UN Secretary-General on the financial and economic crisis, and engagement with the G20.
Before moving to New York, Paul was a policy adviser on international development for the UK Treasury, including the period building up to and through the UK's Chair of the G8 and European Union in 2005.
Previously he had been Chief Economist and acting Head of Policy with UK charity Christian Aid, the UK Department for International Development's economic adviser for South Africa, Botswana, Lesotho, Namibia and Swaziland, and a financial adviser in the Central Bank of Guyana.
Paul received his BSc in Economics and his MSc in Quantitative Development Economics from the University of Warwick. In 2016 he was awarded an Honorary Doctorate in Law (LLD), also by the University of Warwick.
Dimitra-Dora Teloni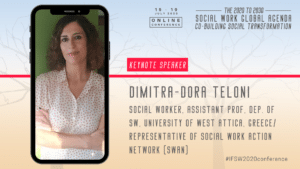 Title of her presentation is: The never-ending crises of neoliberal capitalism. Political action and social work in the post-Covid19 world.
Dimitra – Dora Teloni MA, PhD is Assistant Professor in the Department of Social Work, University of West Attica Greece. Her research interests focus on radical social work, antiracist social work, refugees, social work and movements, poverty and community action.
Dora has worked as a social worker with cancer patients and their carers, with drug addicted people, and people in poverty and she also participated in grassroots welfare initiatives in several organizations in Greece. She is an activist and participates in the antiracist movement from 2007 in Greece as well as in the solidarity movement during the financial crisis in Greece. She is member of the Social Work Action Network in UK from 2004 and founder member of the Greek Social Work Action Network.
Social Work Action Network (SWAN) is a radical, campaigning organisation of social work and social care practitioners, students, service users, carers and academics. SWAN supports radical and progressive social work and promote the kind of social work that is ready to challenge oppressive practice, that means working collectively nationally and internationally to advance Social Work.
Amy Bess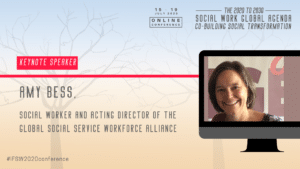 Title of her presentation: Social Service Workforce Strengthening over the Next Ten Years
Amy Bess, MSW, is the Acting Director of the Global Social Service Workforce Alliance. She has 20+ years of program and management experience with international non-profit organizations and has worked in over 20 countries. Amy has designed, managed and evaluated programs for vulnerable children and refugee populations in development and humanitarian contexts in Africa, Asia and the Balkans, focusing on the psychosocial well-being and protection of children and youth. She has also managed US-based refugee resettlement programs. She has an MSW in community organization and administration from the University of Michigan.