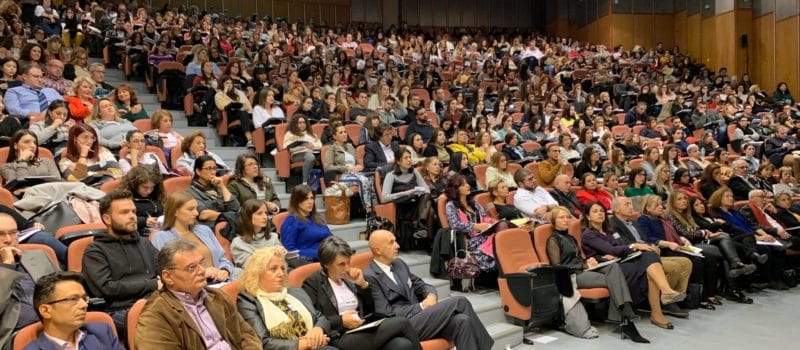 Social workers, professors in the universities and students in social work get together on the 1st international conference of social work in Greece with the subject: "Social Deprivation, Child Protection and Human Rights".
The conference take place in Komotini-Thace, 1-3 November 2019.
Ana Radulescu, the President of IFSW Europe, has been invited in the opening of the conference to welcome the participants with the topic: poverty and the approaches of social workers in Europe.
Ana Radulescu congratulated the organizers for creating such a valuable space for learning and sharing experiences on protecting children rights and learn about new ways of fighting poverty.
Ana also thanks to the Democritus University of Thrace/ Chair of the Department of Social Administration and Political Science and the Association of Social Workers for inviting IFSW Europe to be a co-organiser of the conference.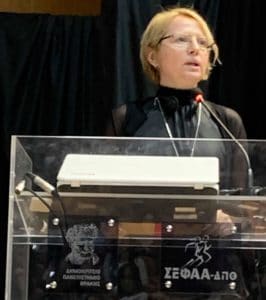 Ana Radulescu addressed the participants:
A majority of countries in Europe are facing poverty and social exclusion. In many countries there are children that are suffering from nutrition deprivation and many countries are not able to ensure resources for hitting for all vulnerable families.
But in Greece, the crisis was more severe and lasted longer than in any other EU member states.
The number of working poor is growing and it is added to socking percent of people that are suffering from nutrition deprivation.
When resources are shortening, it is a challenge for social workers to tackle poverty and social exclusion. The lack of resources is seen also in the drastic financial cuts in social services.
With an increase of poverty and not enough support from the professional services, societies are turning back to charity. But this this approach affects more people's ability to fight poverty.
In poverty the dangerous thing is the loss of dignity and the trust of parents in their own ability to take care of their children.
If we want to create a sustainable support for families, then we have to shift from charity to social justice and social work.
Charity gives, social work and social justice are creating a chance for change.
Social workers in Europe identified in their practices efficient roots and way to fight poverty:
Understanding the systemic context in which families live, including environmental issues and access to resources. Working everyday with people and communities, social workers can produce evidence about what is affecting people access to resources and also to guide them to use the resources to lift them out of poverty.
Engaging people in the decisions, listening what they need and what is working from them. Poverty affect people's decision-making process. Social workers can help people understand how the lack of resources affect and influence their ability
Build on a sustainable strategy. Engage people in being reflective and look to long term objective and consequences.
From my experience and from other social workers in Europe, I have learned the following. Social workers live the same reality. They are struggling with salary cuts and inadequate working conditions. There are social workers that are in the risk of poverty.
It's hard to keep your motivation and inspiration. If this is happening to you, I would like to encourage you not to give up. Stay strong as you have done in the last years. Use the valuable knowledge and skills of social profession in your own life and your own community for the benefits of your family and people around you. Stay close to each other and inspire each other to make the necessary changes for the children and their families.
Congratulations to the social workers, professors and students in social work for organizing this conference.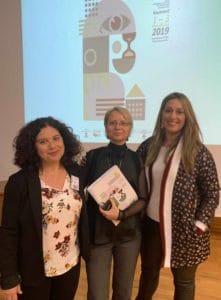 Ana Radulescu had the opportunity to discuss with the President of the Association of Social Workers in Greece.
Ana congratulated the social workers and the Association of Social Workers for their effort in building a strong social work profession and sustainable social services in Greece.