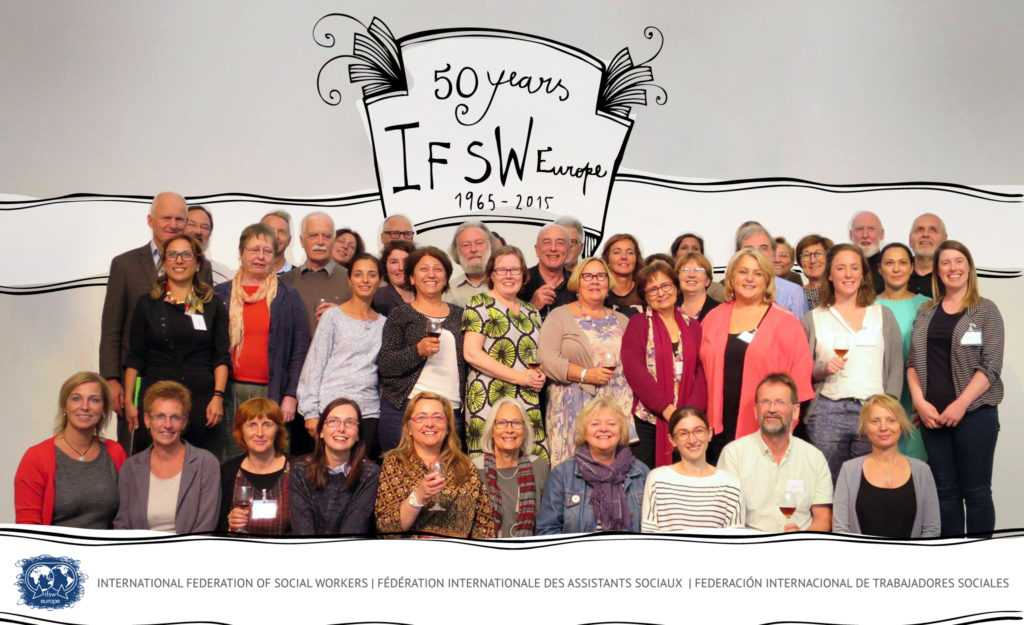 This year – 2015 – IFSW Europe celebrates 50 years!
A Special Session "Socializing in IFSW Europe – IFSW Europe celebrates 50 years supporting social workers" took place at the conclusion of Day 2 of the European Delegates Meeting in September 2015 in Edinburgh.
Delegates enjoyed a nostalgic and stimulating presentation from Herbert Paulischin, former President of IFSW Europe, about the history of IFSW Europe over its 50 years highlighting achievements, prominent individuals and how the Federation has grown and developed over the years.
Ana Radulescu, former Honorary Secretary of IFSW Europe, and members of the ASproAS from Romania supported his presentation with an exhibition.
A toast with Armenian brandy, gently offered by our colleagues from Armenia, Mira Antonyan and Manane Petrosyan, was made to IFSW Europe as celebration and memories were shared by all the delegates.
Please see our the photo from the moment.
Thanks to IFSW Europe's designer Maria Mónica for the design of the photo.