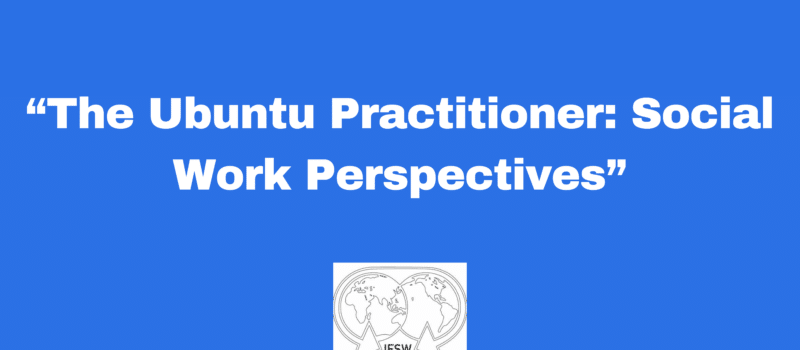 A call for contributions on book chapters
"The Ubuntu Practitioner: Social Work Perspectives"
To be published by IFSW in November 2022
Editors: Bernard Mayaka – IFSW Administrator; Oluwatoni Adeleke – C.E.O Olive Community Development Initiatives; Anstance Fometu – Independent social worker; Prof Revd Adrian D. van Breda – University of Johannesburg; and Rory Truell – IFSW Secretary-General
The International Federation of Social Workers will publish, 'The Ubuntu Practitioner: Social Work Perspectives' in November 2022. We are therefore calling for prospective authors to submit abstracts for a book chapter. Abstracts must be received by 15 March 2022 and the full chapter by 30 June 2022.
Ubuntu – an African philosophy – has gained momentum in the global arena, particularly after being highlighted in the Global Agenda (GA) of the social work profession. Since launching the GA theme, IFSW social workers across all regions of the globe have said that their indigenous or traditional approaches are very similar and that they too identify as Ubuntu practitioners in many ways. Ubuntu thus has the potential to become a global framework for advancing indigenous and culturally relevant social work practice.
This book aims to advance ubuntu practice. We invite professionals to share reflections, poems, stories, visual arts, project outcomes and research, case studies, and personal narratives leading to the embedding of ubuntu into social work practice.
The project gives space to professionals across the world contribute to building collective understanding of Ubuntu principles and practice. This is aligned with the effort to contribute to the indigenisation of the social work profession. While indigenisation of social work is not a new agenda in the post-colonial era, faced with power dynamics and structural dilemmas, it has taken longer than expected. This book hopes to provide impetus to this process.
Timeline: The tentative timeline, which authors may negotiate with the editors, is as follows:
Abstract submission: January to March 15th
Chapter submission: April to June 30th
Review report: August 15th
Final chapter submission: September 20th
Publication of the book: November 2022
We are seeking abstracts from all social work fields of practice, as well as the stories of people's own development in becoming an Ubuntu (or equivalent) practitioner, Abstracts should be no longer than 120 words. The proposed title must clearly capture the focus of the proposed chapter. Include your names, organisational affiliation, country, email and an alternative email or phone number. Authors with special requirements (e.g., double blind peer review of their chapter) should indicate this at the time of submitting the chapter proposal.
Call document