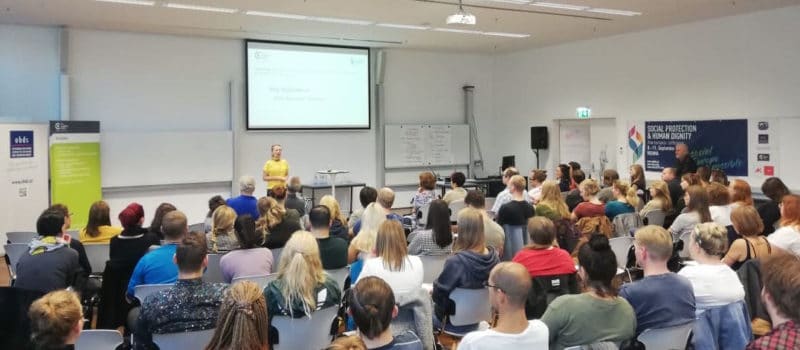 STUDENTS DAY – IFSW EUROPEAN CONFERENCE VIENNA 2019
Over the years, social workers in Europe have developed joint projects and services, which have increased the perimeter of resources they needed and amplified the solutions they could offer for people in need. Today, seeing the growing social crisis in Europe, we know that working across borders is the best way to diminish poverty and to reduce discrimination in Europe. Social problems don't know boundaries – therefore, the solutions also should have no boundaries. Cross-border cooperation and understanding of multicultural environments is inevitable in social work.
Today, social work is an international profession. Many of the structures and processes of the EU have impact at the community level. The social policies implemented in one community have an impact on other communities and regions. Having in mind that complex and rapidly changing conditions, IFSW Europe is taking a major responsibility in facilitating the process of exchange of knowledge and good practice. We committed ourselves to transfer this learning experience to our young colleagues and students in social work.
It is our responsibility to prepare our young generation of social workers to have a clear vision, a practicable strategy and that we enable them to transform the EU Social Pillar into a reality for the people and that social work professionals push forward reforms and policy measures at national level. It is now vital that IFSW Europe ensures that they are ready to get engaged now and become our spearhead of change.
This is why we have encouraged students in social work to participate in the IFSW European Conference. In 1999 the first Students Day was successfully organized as a part of the IFSW European Conference in Helsinki. The idea was continued in 2001 in Vienna/Bratislava and 2003 in Copenhagen. Due to the lack of a relevant educational institution at that time (university), the conference in Cyprus, 2005, did not offer a special program for students.
This year we reactivated the idea of a special day for students again. With the support of OBDS and Doris Stephan (lecturer, FH Campus Wien) we managed to have a Students Day in the IFSW European Conference organized in Vienna. Students from Austria and from Europe and abroad had the possibility to attend only the "Students Day" or register for the main conference and choose the "Students Day" as one of the dislocated workshops.
We organized the Students Day having in mind:
The importance of cross border sharing of knowledge and resources.
The effect of globalisation on local economies, cultures, peoples, and politics has accelerated dramatically since the twentieth century. Social problems have no longer only local solutions. Students in social work have to be prepared for this reality.
I participated in the Students Day with a team of social workers that brought their real stories of professional practice. We encouraged the students to experience the advantages of implementing a combination of in-class instruction and field-based activities in international settings. We all shared our experiences in initiating and implementing cross border projects and offered to them IFSW Europe as a platform for expanding the limitations of teaching, learning, and providing practical social services experience.
Investing in young social work colleagues and students is an investment in today and in the future.
Active engagement of youth in becoming a voice of social work profession is the key to developing good quality in social work services. The investment in the young generation of social workers starts today. Young colleagues and students in social work need to engage today in how we shape the social work profession and services. They have to take leadership and become heard and visible in the most important discussions about how we support societies – not only the vulnerable and disadvantaged groups. It is our role to show them all opportunities and to make them part of the work of IFSW Europe.
As President of IFSW Europe, I was invited to talk about challenges for social work as a human rights profession. I used storytelling about empowering people to live a life in dignity and creating conditions under which individuals can develop self-esteem and personal/emotional safety. This has proven to be an absolute prerequisite for achieving an inclusive society and sustainable development. In rich and poor countries, the attack on human dignity has a huge impact. This concerns personal autonomy and, moreover, it jeopardizes the ability of people to make autonomous decisions about their lives. Social justice and human dignity are core components of social work. As social workers we risk to fail in our mission of reducing vulnerabilities and building resilience if we don't succeed to help people to restore their dignity.
I brought with me young social workers (Adriana Sălcianu and Madălina Manea) who spoke about their own experience in changing the conditions for providing social services in a way that better responds to accessing and using resources for the good of the people. I also brought with me social workers with a great deal of international experience in social work (Rory Truell and Herbert Paulischin).
We all shared with the students our experience in building resilience and help people regain their dignity.  And we also listened to students about their way to see and understand the development of social services. The students presented us their way of collecting evidence and building an appropriate support service for those that are in the risk of Suicidality in the WWW. The students (Christian Heiling, Verena Hrdlicka, Ruth Perfler, Joachim Schmid) from FH Campus Vienna gave us their understanding of how future orientated support services must be designed and how to overcome traditional barriers. The biggest challenge will be to incorporate and use technology from how young social workers will incorporate technology and use technology in the provision of social services. Moreover, young social workers must manage the transfer in a way that no one is left behind and social services become accessible in their "virtual reality". What delighted me in their presentation is the fact, that students in social work have laid the foundation for research and solutions to problems based on and referring to the professional values ​​and ethical principles of social work.
The open space discussions focused on topics important for students and their questions.
The Student Day closed with the cabaret show "HOMO ASOCIALIS" Future in Social Work, performed by Stefan Trenker & Alois Huber. It tells the story of two courageous social workers travel the year 2039 for an insight into the possible future of social work.
Last, but not least, we invite social work students from Austria and other countries in Europe to become a part of IFSW European project: A social Europe is possible! The young generation of social workers are the spearhead of change.
Thanks to FH Campus Wien: Brigitta Zierer (head of department), Doris Stephan (lecturer) and Stephanie Steyrer ("Wir Zusammen", pioneers of change) for hosting and guiding us through the day. And thanks to Alois Pölzl (The President of OBDS Austria) and Herbert Paulischin (Head of International Department, OBDS Austria) for organising the event.
The German translation of this article will be published in SIO, the magazine of the Austrian Association of Social Work in October 2019 (https://www.obds.at/sio-fachzeitschrift/)
Ana RADULESCU
President of IFSW Europe