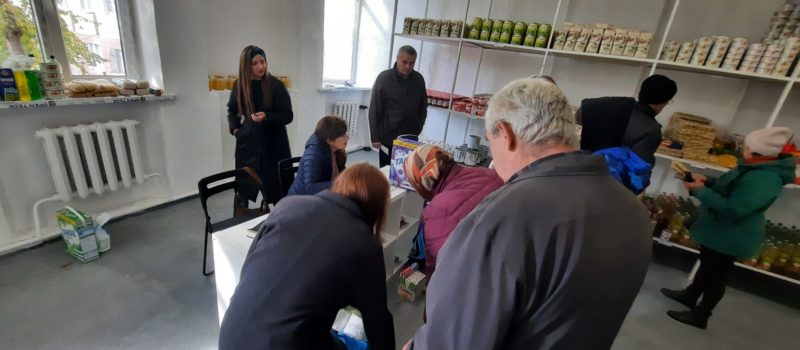 A Social Investment Partnership was launched today in the Kamenets Podisk district of Ukraine by the National Association of Social Workers Ukraine and IFSW.
The President of the NASWU Yana Melnychuk explained how the Partnership works:
"Under the war conditions, the cost of supermarket products is too expensive for most people. More than 30'000 displaced people have arrived in our community with nothing be the clothes on their backs and many of the other people originally from this district have not been paid since the beginning of the invasion. We wanted to create a shopping centre that allows people to choose their own products, not as aid, but in a way that respects their dignity; where they can pay for products, not with money, but with vouchers they can earn from participating in community activities. All people have skills, for example; cooking for others, repairing cars, supporting older people, making clothes, teaching a language, developing activities for children and through our Community Social Work Centre they can arrange to earn vouchers in exchange for these community services", she said.
At the opening of the Social Investment Centre, District Mayor, Mr Mykhailo Simashkevych said, "This is a wonderful and powerful system that is building our social economy. The people have roles and are fully active in supporting each other. It brings a force of positivity to people who are under immense pressure".
A number of key projects have already commenced. These include repairing old buildings for the use of communities, running community classes, repairing generators and community kitchens where food can be made and distributed across the country.
"The concept of the Social Investment Partnership", Rory Truell of IFSW explained, "comes from many other social work projects worldwide, where communities are supported by social workers to develop their own mutual social support systems; and in we know from other war zones that when people work together like this, it reduces their trauma symptoms as well as creating multiple contexts of care for everyone."  IFSW European President Ana Radulescu said, "This is working beyond humanitarian aid. It is an approach that recognizes the dignity and resources of each person. This Partnership is unlocking the human potential and humanizing people that the invasion is disparity trying to dehumanize."

To see a short video of community members and social workers setting up the Social Investment Partnership click here.
To visit the NASWU website click here: www.насп.net
To learn more about the Kamenets Podisk and IFSW partnership click here https://www.ifsw.org/social-work-in-ukraine/