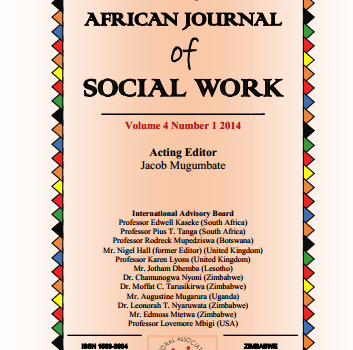 Released today is a free issue of the African Journal of Social Work (AJSW)
This refereed journal serves as a forum for exchanging ideas and knowledge relevant to social work practice, education and research in the African region. Producing two issues a year, the Journal is published by IFSW member the National Association of Social Workers (Zimbabwe) and is committed to reflecting culturally relevant and appropriate social work practice from throughout Africa.
Daniel Asiedu, IFSW Regional President for Africa said from Ghana, "The journal creates a tool for African social workers to be able to further develop our unity and identity as professional practitioners. It will greatly assist in growing our profession in a continent where it is very much needed". Zimbabwean based Noel Muridzo, the IFSW Member-at-Large for the African Region added, "The Journal also creates the opportunity to share the in-depth experience of social work in Africa with the rest of the world".
IFSW Secretary-General, Rory Truell congratulated the editorial team, writers and all the people involved. He said, 'Producing a journal is a major effort but very worthwhile. There are so many exciting social work approaches coming from Africa. This journal will capture the voice and experience of African practitioners – we will all benefit from this".
AJSW's editors have said they are happy to receive contributions from all over the world, if they are relevant to African social work. To find more details on how to submit articles, subscribe to the journal and read this edition for free here.
http://www.ifsw.org/wp-content/uploads/ifsw-cdn/assets/ifsw_45724-4.pdf