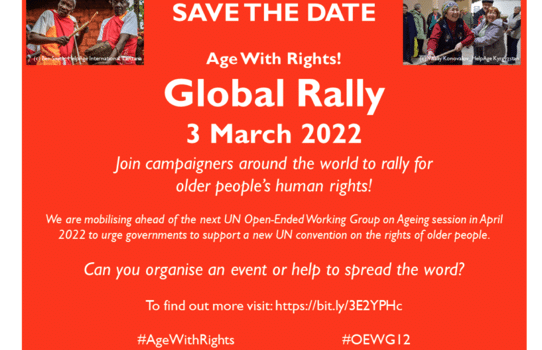 Age with Rights: IFSW Europe supports the Global Rally on 3 March 2022
On Thursday, 3 March 2022, the Global Alliance for the Rights of Older People (GAROP) is holding a Global Rally.
This is an opportunity to mobilise existing and new advocates to support the call for a UN convention, and to push governments to participate actively and show their support.
IFSW Europe is represented on the IPA global organisation for Older People's Mental Health. IPA's statement says:
If ever there was time to rally for the rights of older people, it is now.
Ensuring that older people receive adequate physical, mental, and social care when needed is vital for healthy ageing to enable everyone to fully enjoy their human rights with dignity. Appropriate and timely care should not be seen as a handout or charitable gift from the government.
The IPA is fully aligned with and supports the Global Alliance for Rights of Older People's vision of a world in which older persons live free from discrimination to fully enjoy their rights. Accountability, monitoring, and responsibilities can only then be ensured.
Share this statement, take part in the IPA webinar on Human Rights and join the Global Rally Summit on 3 March, and follow and use #AgeWithRights across social media to take part in the Rally.