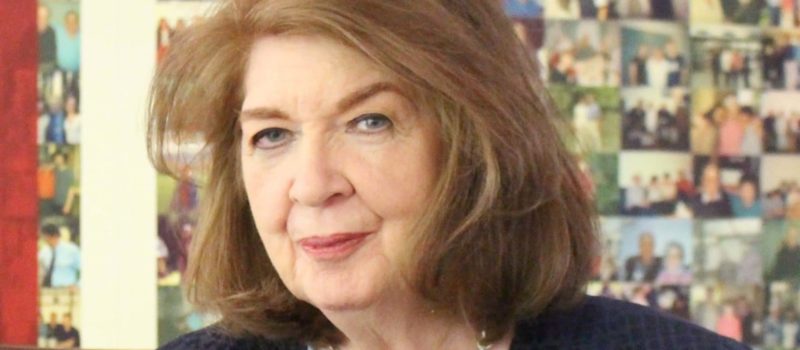 The International Federation of Social Workers is pleased to announce the award of the highest honour of the Federation – the Andrew Mouravieff-Apostol Medal – to Margaret Humpreys CBE, AO.
The presentation was made at the IFSW virtual General Meeting on Saturday 11 July 2020.  She was nominated for the award by the social work associations in the UK (BASW), Australia (AASW) and Canada (CASW-ACTS).
The award recognises Margaret's outstanding professional career as a proud social worker and in particular her work exposing the child migrant scandal.
IFSW President, Silvana Martinez, said 'Margaret has made an outstanding contribution to international social work and she deserves our thanks'.
IFSW Secretary-General, Rory Truell, commented: 'Margaret has always spoken proudly of her social work identity.  She has constantly upheld social work values in her practice and her global campaigning.  She has facilitated people to tell their own stories & supported them to shape a global campaign.  She has challenged large agencies & governments to face up to past bad practices.  She is determined to put right the wrongs of past poor practice.  She lives social work values and deserves our thanks'
BASW Chair, Gerry Nosowska, said: ´BASW is proud to have nominated Margaret for her inspirational work.  She has made an international impact through her commitment to the principles of social work'.
Chair of the BASW International Committee and former IFSW President, David N Jones, drew attention to the citation submitted by BASW with support from AASW and CASW-ACTS.  He referred to 'Margaret's absolute determination to achieve fairness and justice for the child migrants and their families and her outstanding use of social work skills in contact not only with the child migrants but also governments, embassies, agencies and Prime Ministers.  Her professional work embodies the true characteristics of a social worker and she is a worthy recipient of this global award.'
In reply, Margaret Humphreys thanked the three associations for the nomination and IFSW. She said: It is an honour and I accept this award on behalf of all the child migrants and their families that have been the focus of my work since 1987…"
To see the video nomination from BASW, the IFSW presentation and Margaret Humphreys acceptance, please click here.
Read the BASW citation paper here
NOTE TO EDITORS
Andrew Mouravieff-Apostol (Andy) was the Secretary-General of the International Federation of Social Workers from 1975-1992.  He was later made Honorary President.  He died in Geneva in 2001 after a distinguished career in journalism, translation at the highest levels and diplomacy.  He married a social worker, Ellen Mouravieff-Apostol, who served with him as Deputy Secretary-General and then as IFSW representative to the United Nations in Geneva.  The Medal was created in memory of Andy to recognise those who had made an 'outstanding contribution to international social work'.
Contact
IFSW
British Association of Social Workers
Australian Association of Social Workers