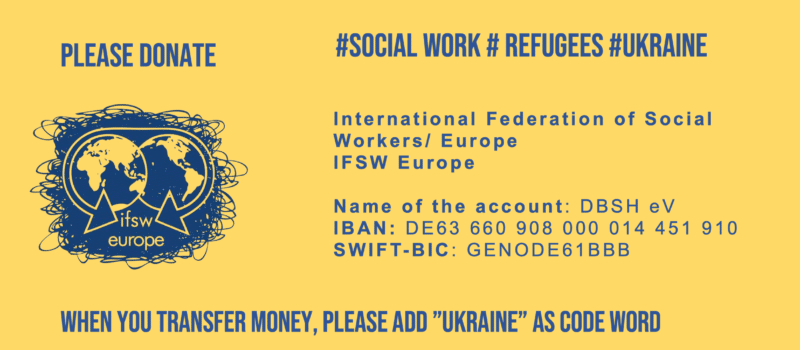 #Social Work # Refugees #Ukraine
In Ukraine, almost everyone is on the run. Those who are most resourceful will get by on their own or with the help of others. Most of them will travel further alone after a first shelter. Thousands of mainly woman and children have fled the fighting in fear for their lives.  Thousands more are likely to follow in the coming days and weeks.  All are now suddenly refugees, often with few belongings and deeply traumatised by the terrible events inflicted upon them.
Many are sick and in need of urgent medical attention.  Many are without documentation because of the speed of the terrible events.
Our social workers colleagues, in the countries having border with Ukraine, have responded directly to people affected. Social workers are working long hours in very difficult circumstances, at the border with the Ukraine to offer help to individuals and families.
To get to the border and to the camps, social workers and students in social work must travel long distances. Their work is voluntary. However, there are travel costs and accommodation.
Therefore, IFSW Europe decided to open a call for donation:
International Federation of Social Workers/ Europe
IFSW Europe
Name of the account: DBSH eV
IBAN: DE63 660 908 000 014 451 910
SWIFT-BIC: GENODE61BBB
Every donation counts and increase our social workers capacities.
Thank you very much for your support!
#Social Work # Refugees #Ukraine