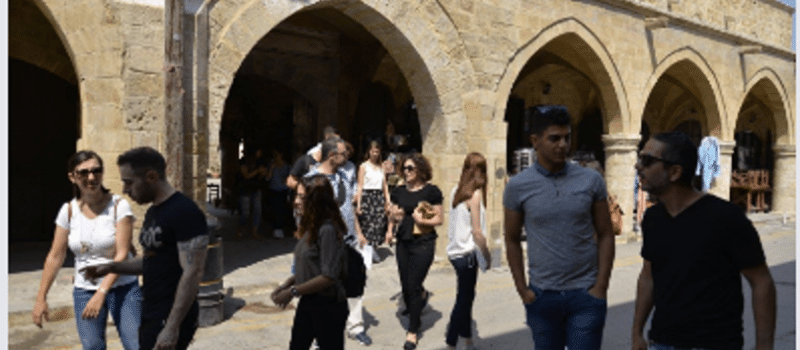 (Photo: Social workers from the North and South getting to know each other on a walk at the border.)
Social workers from both the north and south of Cyprus have developed the United Cyprus Social Work Platform to promote understanding and unity across the island. Co-founding member of platform Gregory Neocleous from the Greek-Cypriot side in the south said, "Since the military division into the Turkish side and Greek side in the 1960s there has been significant upheaval for both sides resulting in an ongoing legacy of trauma, loss and polarization. As social workers, we feel an ethical responsibility to bring the divided communities together for reconciliation and to be able to celebrate our common identity".
Co-founding member, Hanife Serin form the Turkish-Cypriot side in the north said, "We have started by bringing social workers and students from across the island together. This is not always easy as distrust and blame have been characteristics of this conflict for many years. But social workers and students have shown a willingness to change these dynamics and we hope that as our Platform grows, we will also have an impact on social services in breaking down conflict and addressing the communities' traumas".
The United Cyprus Social Work Platform was established with the aim of supporting social workers to reach out across the divide. The founders recognized that social work education was silent on the major social issue of their country and they did not want to be complicit in that silence. IFSW Secretary-General, Rory Truell who spoke with Dr Neocleous and Ms Serin congratulated them and their colleagues on their role in peacebuilding and addressing the traumas of war. He said, "Your platform acts as a model for social work associations in other conflict areas. It is vital that social workers overcome nationalist cultures that demonize the other side and work to see the humanity in all people. The Cyprus platform should be examined by our colleagues in other conflict areas".