IFSW 2020 Online Conference: Co-Building Social Transformation
July 15, 2020 - July 19, 2020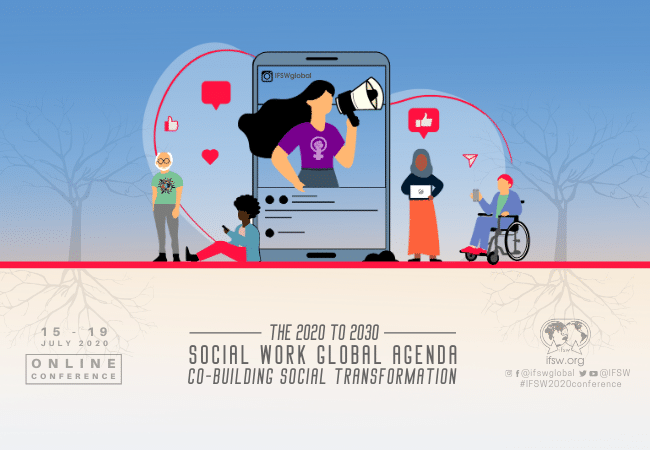 This conference will finalise a global consultation process that will set the strategic priorities for the social work profession from 2020 to 2030.
Social work is the fastest growing profession in the world as more governments and employers recognise the powerful impact that social workers have in communities. Lower crime rates, better health outcomes, more people accessing work and education are outcomes of social work professionals supporting people to take charge of their own futures and realise their aspirations.
As a human rights-based profession, social work has an essential role in all societies facilitating communities and populations to raise their voices and stand for their equality alongside all others.
The strength of the social work profession lies in capacity to build participatory democracy, engage communities in their sustainable futures, and defend human rights.
Through this conference the profession and its partners will launch the social work contributions to make social justice a reality.
To increase cooperation and outcomes at the international level the Global Agenda for Social Work and Social Development was launched in 2010 with strategic themes that last until 2020.
These themes have resulted in actions in every country with wide-spread advocacy and gains for people's social rights and environmental justice. Now, the themes must be set for the next ten years 2020 to 2030.
'The Global Social Work Agenda: Co-Building Social Transformation' will be a participatory conference comprising social workers, educators, people who use social services, representatives of marginalised communities, politicians and world leaders who want to contribute to identifying the priorities of the social work profession and the best possible social solutions.
The five-day conference will run as a participatory conversation that will conclude with a set of interrelated themes and strategies for moving the Agenda forward.
The conference programme will use dialogue spaces punctuated with motivational addresses, the latest research, and perspectives from frontline practitioners, educators and community leaders sharing their real solutions to increasingly complex challenges.
All participants will be able to contribute to conference decisions and play their part in setting the 'The Global Social Work Agenda: Co-Building Social Transformation'.
Join the conversation and shape the future of the social work profession and its impact in creating national and global social solutions.