World Social Work day 2021International Seminar – India
March 16, 2021 @ 9:00 am - 4:00 pm UTC+5.5
International Seminar on Social Service, Social Work, Social Sciences
– A Road a Head – Awareness, Education & Opportunities
Each and every Small step, efforts will lead us to success. Let us make our efforts, our success, together, for each other.
International Seminar on Social Service, Social Work, Social Sciences – A Road a Head – Awareness, Education & Opportunities
(As part of Social Work Month & Social Work Day – 16th March 2021 – Celebrations, Awareness & Campaign)
Promoting Social Work : History, Philosophy, Education, Research, Employment, Profession, Practice.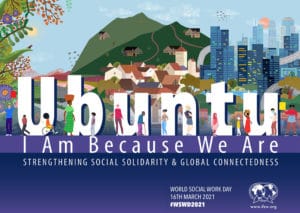 Commemorating
World Social Work Month 2021
World Social Work Day 2021
(on 16th March 2021, Tuesday )
World Social Work Day 2021 Theme :
Ubuntu: I am Because We are.
Strengthening Social Solidarity and Global Connectedness.
Ubuntu: 'I am because we are' is a concept and philosophy that resonates with the social work perspective of the interconnectedness of all peoples and their environments. It speaks to the need for global solidarity and also highlights indigenous knowledge and wisdom.
In Collaboration with
Sri Holistic Health Foundation India (SHHFI) &
Professional Social Workers, Professional Social Work Associations, Social Work Schools & Departments, Social Work Fraternity & Stakeholders, NGOs & Others.