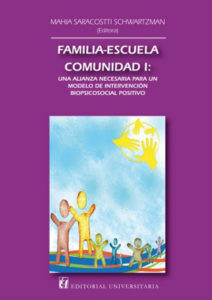 Mahia Saracostti Schwartzman
Published by: Santiago: Editorial Universitaria, 2013, 340 pages
ISBN: 978-9561124028
Review author: Cecilia J. Mayorga Muñoz, Universidad de La Frontera, Chile
Book review published: November 28, 2017
---
There is a current consensus that considers education a process in which personal, familial, and socio-cultural variables converge. For that reason, contextual factors have been considered relevant constituent elements of the scholastic commitment (Skinner & Pitzer, 2012) and, consequently, of the educational trajectories of children and adolescents. Thus, if one wished to promote academic success, especially in contexts of social vulnerability, they should provide mechanisms to centers of education that permit the alignment of scholastic conditions in situations of social disadvantage, fostering equal access to education.
One measure that could help equalize these conditions involves schools providing psychosocial services that help to ameliorate such conditions. In many cases, children and adolescents abandon the school system due to a lack of sufficient support during their formative processes or due to being burdened by various socio-familial and economic situations as well as growing up in unfavorable environments. In doing so, the school would be coping with the non-academic barriers to learning, diminishing risk factors and enhancing the positive effect of familial involvement, a good school environment and a community that promotes and makes accessible the resources and networks to families and to the same educational institutions present in the area (Villarreal González, Sánchez Sosa, & Musitu Ochoa, 2010).
The collaborative collection between family, school, and community – understood as an interdependent relationship that contributes to a child's socio-emotional development (Rivas-Borrell & Ugarte, 2014) – acts as a protective factor against common negative influences, promoting and strengthening educational support within and outside of the home (Jeynes, 2010, Reschly & Christenson 2012), which, without a doubt, is a strategy that bolsters the quality of educational processes and integrated childhood development.
This book Familia – Escuela – Comunidad (English: Family – School – Community) adopts such a perspective. Consisting of three volumes, this work on the necessary alliance of these three institutions for positive biological, psychological, and social interventions is a valuable tool for teachers, psychologists and counselors at educational centers. Based on two years of research in educational contexts, the book delivers substantial information and proposes a model with theoretical-methodological guidelines for creating psycho-educational interventions for children between 6 and 12 years of age, allowing difficulties encountered in the educational process to be tackled early on, converting the practice into a preventative measure aimed at keeping children in school.
The first volume takes into account experiences at both the national and international level. The second demonstrates services, strategies and biological-psychological-social intervention programs oriented towards the strengthening of familial collaborative involvement (Family), non-academic support within the school (School) and local support services (Community.) In addition, the book also offers recommendations for the implementation of these programs and a road map for educators, social workers, psychologists, and other professionals. The third volume addresses the Model of Biological, Psychological, and Social Intervention and its implementation as well as elements and tool for its development.
In its entirety, the book offers guidance on how to balance conditions of social disadvantage in educational contexts through psycho-educational intervention: strengthening familial involvement, the factors that protect families and the educational establishment and the development of strategies for the promotion of secondary support networks. All processes should have an important impact on decreasing the associated social costs, such as dropping out, school violence, poor adaptation to the school environment and behavioral problems of children and teenagers.
The guidelines and recommendations contained in the text are possible to replicate in distinct contexts of social vulnerability, thus sustaining the current concept of the educational process – and in national, Latin American, and North American experiences, creating a valuable guide for shaping new proposals or replicating experiences of biological-psychological-social services in local educational contexts.
Jeynes, W. H. (2010). The Salience of the Subtle Aspects of Parental Involvement and Encouraging that Involvement: Implications for School-Based Programs. Teachers College Record, 112(3), 747-774.
Reschly, A. L., & Christenson, S. L. (2012). Jingle, jangle, and conceptual haziness: Evolution and future directions of the engagement construct. In Handbook of research on student engagement (pp. 3-19). Springer US.
Rivas-Borrell, S., & Ugarte, C. (2014). Formación docente y cultura participativa del centro educativo: claves para favorecer la participación familia-escuela.
Skinner, E. A., & Pitzer, J. R. (2012). Developmental dynamics of student engagement, coping, and everyday resilience. In Handbook of research on student engagement (pp. 21-44). Springer US.
Villarreal González, M. E., Sánchez Sosa, J. C., & Musitu Ochoa, G. (2010). Cómo mejorar tus habilidades sociales. Programa para adolescentes: manejo del estrés, resolución de problemas, autoestima, asertividad, proyecto de vida y administración del tiempo libre.
---
Prof Cecilia Janette Mayorga Munoz is currently engaged in research in family, childhood and gender relations. She has a PhD in Human and social sciences and interest in family relationship resolutions.