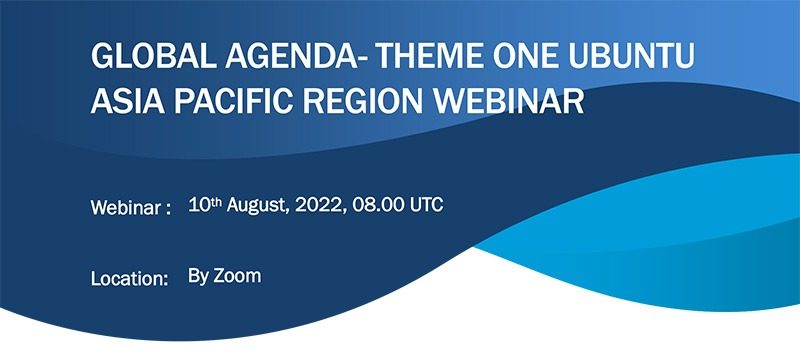 Global agenda- Theme one ubuntu

ASIA PACIFIC REGION WEBINAR

Webinar :
10th August, 2022, 08.00 UTC
 
 
Location:
By Zoom
The Global Agenda Taskforce [IFSW; IASSW; ICSW] have asked the Asia Pacific region to provide a brief report on progress towards the Global Agenda for Social Work and Social Development Theme One (2020-2022)- Ubuntu: Strengthening Social Solidarity and Global Connectedness. This webinar will include brief presentations from social work practitioners and educators from a range of countries across the region on how the principle of Ubuntu is being progressed. The presentations will contribute to the regional report, but all are welcome to join the webinars by the zoom link below.
Wednesday 10th August, 2022, 08.00 UTC. To 10.00 UTC
(Auckland 8.00 pm; Sydney 6.00 pm; Tokyo 5.00 pm; Seoul 5.00 pm; Beijing 4.00 pm; Bangkok 3.00 pm, Manila 4.00 pm; Dhaka 2.00 pm; New Delhi 1.30 pm)
Moderator- A/Prof David Rose IASSW/APASWE
Welcome- Sriganesh MV, Regional Vice President, IFSW- AP
Presentations-
Prof Liu Meng- China Association of Social Work Education (China)
Ms Shirley Ikkala- University of Auckland (Aotearoa New Zealand)
Dr David McNabb- UNITEC Institute of Technology (Aotearoa New Zealand)
A/Prof Viktor Virag – Japanese Federation of Social Workers (Japan)
Dr Jowima Reyes- University of the Philippines (Philippines)
Prof Tulshi Kumar Das- Shahjalal University of Science and Technology (Bangladesh)
Prof Ipe Varughese- India Network of Professional Social Workers' Associations (India)
Dr Saowathan Phoglad- Thailand Association of Social Workers (Thailand)
Questions/Discussion
Zoom Meeting:   846 9176 5514                                  Password: 162217
 https://unimelb.zoom.us/j/84691765514?pwd=L3h1Z3pTM05TZWNtTkJ1aS95N0k1UT09