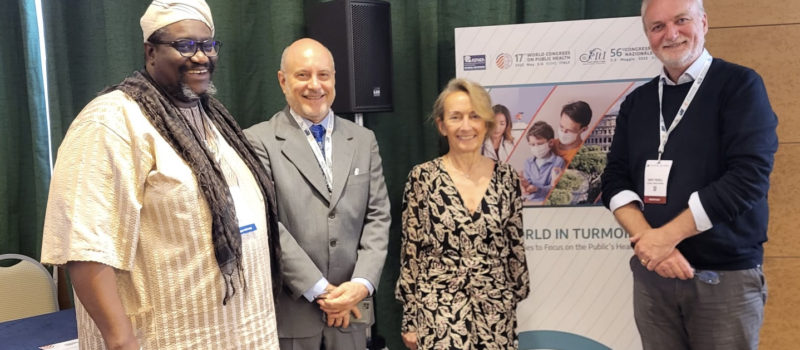 Photo from left to right: Baba Aye, Luis Eugenio de Souza, Bettina Borisch and Rory Truell
In Rome today at the World Federation of Public Health Associations (WFPHA) global conference, international organisations joined forces promoting the need to redesign health and social systems from the ground-up.
Luis Eugenio de Souza, President, and Bettina Borisch, CEO, of the WFPHA along with Baba Aye, Health and Social Services Officer of the Public Services International (PSI) and Rory Truell, Secretary-General of The International Federation of Social Workers (IFSW), jointly engaged with the audience participants on developing a set of messages. These included:
Prof. Dr. Luis Eugenio de Souza opened the session, commenting: 'We all need to work together to change the practices of our professions and the top-down approaches of governments, policymakers, and corporations. Public health and wellbeing are dependent on people having good salaries, working conditions, social rights and being respected as confident citizens. He invited the conference participants to join with the panel in creating outcomes that support 'real public health and wellbeing'.
On the panel, Dr. Bettina Borisch, a Professor at the Geneva Medical School, said, 'We talk about Sustainable Development Goals and SDG 17 is about partnerships. But what do we mean about these partnerships? Is it the old rhetoric of donor and recipient that creates top-down power imbalance? Or should we be talking about professions, policy and governments really seeing and understanding the informal sector and creating reciprocal partnerships with the people in communities that really are the glue that hold societies together?'
Baba Aye, from PSI which brings together 30 million public sector workers, contributed, 'We need to conceptualize ourselves as a part of a social movement. Social movements have throughout history been the prime actors of change. These include woman's right to vote, limiting the exploitation of workers, ending colonisation in many countries, to advancing civil rights. The health, and social work professions, along with unions, have all been involved with all these historic developments and now is the time to work with other social movements to push forward a sustainable new eco-social world'.
From IFSW, comprising 151 national associations of social work, Rory Truell said, 'Communities and people are our greatest resource.  People don't want poverty or war in their own lives or in the lives of others. The current geo-political system is designed on nation states who have self-serving interests, which significantly limits their ability to cooperate to address the global challenges we all face. Too many governments are also blind and deaf to understanding that people in their countries are a rich resource and that they can contribute to solving problems. As we move to the new era, we highlight respecting and celebrating our diversities through joint social action, where everyone can be involved and no one is left behind'.
Discussion with the audience highlighted examples of significant social, economic and health development when the health, social professions and communities work together addressing housing, employment, health and social strategies. Challenges were also identified such as the inflexibility of governments to adapt budgets to enable communities and professions to work together.
The three global organisations that led the workshop have worked together, along with other professions and global movements in the 2022 People's Global Summit. Another partner to that Summit,  CLACSO  also submitted a statement to the conference workshop highlighting the need to rebuild health services. To read more about the People's  Global Summit click here.