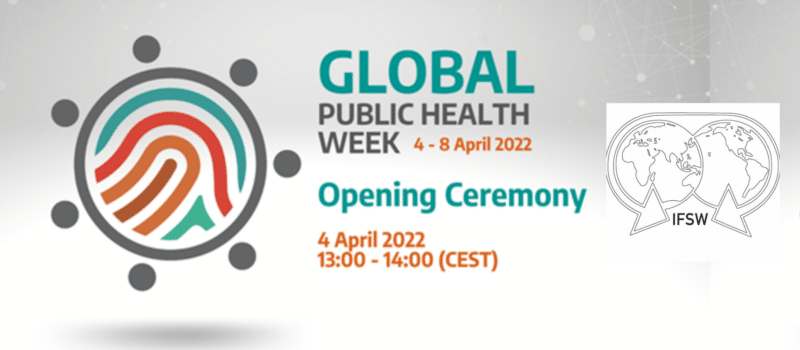 GLOBAL PUBLIC HEALTH WEEK 2022 runs from 4th to 8th April 2022
The International Federation of Social Workers (IFSW) in the spirit of co-building a new eco-social world, joins the World Federation of Public Health Associations (WFPHA) and global community in celebrating the Global public health. The two partners have co-organised an event "Health and Social Wellbeing in a Conflict Environment" some of the presenters of the event include:
Bettina Borisch. Executive Director WFPHA; Ricciardi Walter. Comittee member, European Advisory Committee on Health Research (EACHR); Ana Radulescu. IFSW European Regional President; Marinilda Rivera Diaz. IFSW Reginal Represenative for the Latin America and the Caribbean Region of the IFSW Education Commission and Malabika Sarker. Professor and Acting Dean at the James P. Grant School of Public Health at BRAC University, Bangladesh among others.
This will be preceded with the opening ceremony by Global health leaders, including;
Dr Tedros Adhanom Ghebreyesus, Director-General of the World Health Organization (WHO), who will officially open the 1st edition of Global Public Health Week (GPHW) on April 4, 2022 during a dedicated ceremony to be held at 13:00 (CEST).
Join us as we celebrate with our partners the importance of public health in all of our lives!
Join by Saving Your Spot:JOIN
For more information please visit:
Keep up to date with all the activities and news relating to #GPHW2022 by following us on our social media.
Stay Safe; Stay Healthy!