In recent years social work has been undergoing significant transformation and 2013 was no exception. Driving these changes is the social work response to the economic crisis in many parts of the world and the challenges of unjust global systems that keep people in poverty.
During 2013 IFSW has reinforced focus on engaging-in and shaping political outcomes with social work perspectives and solutions. Our aim has been to provide space for social workers to articulate their points of view in regional and global forums. This action has been met with enthusiasm from the United Nations, European Union and other international policy bodies who are increasingly recognising that social workers have expert insights in the daily realities of where policy and people interact.
IFSW's key high-level messages throughout 2013 have been:
'People cannot be developed by others'. Our frontline experience has taught us that to escape from poverty and oppressive situations people need to be actively involved in their own futures.
The cornerstone of a thriving economy is a stable community.
People are happier and wellbeing is better for all in more equitable societies.
When people are organised and have a collective voice they are more able to advocate for their rights and participate in decision-making processes resulting in better wellbeing.
The first major 2013 political action for IFSW was in March when supporting social work leaders form austerity affected countries in Europe to met the European Union Commissioner László Andor. The delegation wanted to engage the EU in understanding the dire social affects of austerity upon the people of the affected countries.
The delegation created a strong symbol of social work unity and action. The Commissioner responded emotionally and positively to the messages on what happens 'when day services are cut', 'on how a family copes with the suicide of a father who lost his job' and other daily realities for social workers. The delegation also forewarned the Commissioner on the significant growing social problems resulting from austerity and the excessive financial costs that will effect an entire generation as a consequence of austerity.
Also in March IFSW highlighted: 'Social Workers Promote Social and Economic Equalities' as the World Social Work Day theme. This heading is one of the five from the Global Agenda for Social Work and Social Development. This message was celebrated worldwide with many IFSW members translating the message into their own languages and making delegations to their own governments for action.
Another significant international date for Social Work in March was the 'Social Work Day at the United Nations'. On this occasion IFSW expanded the traditional event held at the UN headquarters in New York, to also have an event at the Geneva UN site.
Both events attracted senior UN figures that came to engage with social workers and form partnerships to be more effective in our areas of common concern. IFSW delivered strong messages on the need for the UN to develop the international architecture that addresses the drivers of inequality and poverty. We said:
"As social workers, we are not involved in global, macro-economic decisions. However we do bear witness to the social realities. We observe that unreliable, unequal, fluctuating societies undermine health and wellbeing and erode potential positive futures. Thus, as systemic professionals, we are compelled to develop the beginning of a social work perspective on the need for regulation of the economy based on the principles of 'social-justice'.

Since 1980, a financial crisis has rocked the world roughly every three years. This has usually been preceded by large capital movements, rising commodity prices, and interest rate hikes. On average, it takes two years to create the problem and 4.8 years for employment to recover to pre-crisis levels. Each time this happens, large numbers of people become homeless and insecure.

How do governments and the international economic frameworks respond? They tend to seek short-term solutions that aggravate the problems. For example the current pursuit of 'austerity' and 'competition' in Europe and elsewhere has not, and cannot, produce the anticipated 'growth' politician's desire. The Austerity policies are driving massive job losses, wage reductions, price increases, loss of the skilled workforce, business failure and increased inequality. Many people have lost access to adequate housing, health and education services, with lasting implications for future generations.

We call upon the UN to develop the international architecture that addresses the drivers of inequality and poverty. What would a 'socially just economic frameworks' look like? Just like today, regulation would be based on multilateral treaties. However a just economy would be founded on: human rights, fair pricing, international standards of labour, corporate social responsibilities, capacity building for low income countries, agreed forms of dialogue underpinning supply and demand agreements – enabling all parties to participate, and share in benefits."
In April IFSW also set up a final consultation round on the Global Definition of Social Work. A point-in-time draft co-written with IASSW was circulated to members for their comments and feedback in preparation for a decision to be made at the forthcoming General Meeting, which will be held in July 2014. The point-in-time draft was developed from information gathered in earlier consultation rounds and aimed to include the new developments in the profession.
In May the IFSW Latin America and Caribbean region held a conference to organise social workers to be more effective in influencing social policy. A similar themed conference was also held by IFSW European region in partnership with the European Network for Social Action.
Cristina Martins, the Regional President said "The 3rd Ensact Conference 2013 in Istanbul was a great success mostly due to the great work and commitment of the Turkish Association of Social Workers in making everything possible, catering for all participants (more than 600) and creating a wonderful atmosphere".
Also in May the Asia-Pacific regional co-hosted a conference focused the Social Work Response to Natural Disasters and the social costs of climate change. See what a great conference it was from this video:
In June we commenced a new campaign titled Campaign For Real Rights. This strategy called upon all IFSW members to engage in discussions with their governments on ratifying a protocol that would legally bind the government to the Declaration of Human Rights.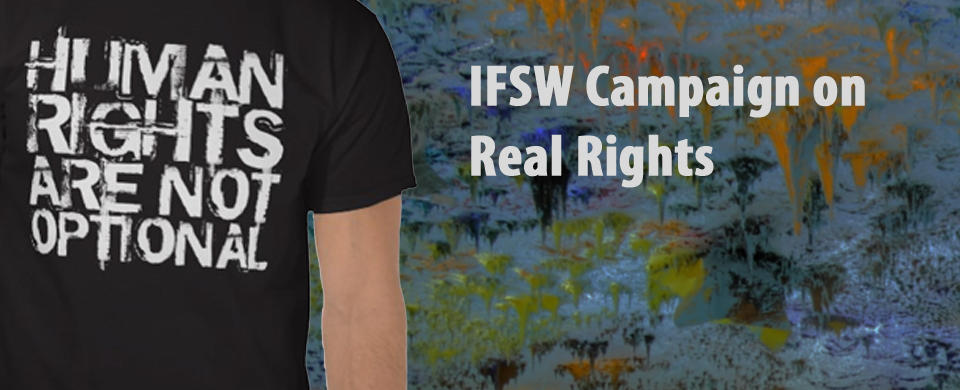 In July IFSW President Dr Gary Bailey through keynote addresses promoted the Agenda and human rights at conferences in Uganda, and along with Latin American and Caribbean Region President Laura Acotto in Curaçao. In August Fiona Robertson, IFSW Treasurer led a project to evaluate what was in the IFSW Archives and to ensure that all documents were preserved for future generations. The archives have been repacked in preserving materials and each month a batch of historical records are scanned and put online.
In September the Africa Region held its conference, titled: 'Voices for Development'. Social workers from across Africa met in Johannesburg to send messages to their governments and international development agencies. The key messages to the international community were to build global frameworks of agreed fair taxing and just trade systems so that Africa doesn't continue to be "super-exploited" by overseas companies. A further message to their governments was that the last 10 years of economic growth in the African region has not made a comparable difference to the social conditions of the vast majority of people and that economic growth needs to be bound with social development.
Realising the importance of hearing the views of social work practitioners, UN secretary-general Ban Ki-moon sent a message to the conference stating:
"Your deliberations will help spur action to achieve the MDGs [millennium development goals] while also contributing to shaping the post-2015 agenda. I count on your full engagement and partnership."
In addition to the above IFSW also made a number of other political statements. These included calling on members to support the campaign for human rights in Russia in relation to the new legislations discriminating against LGBT people. The IFSW Human Rights Commission also commenced new strategies in the areas of Surrogacy and Birth Registration. The Commission further issued a statement on Human Rights Day and Global President Dr. Gary Bailey made a statement on World Aids Day. More recently IFSW also launched a campaign to support social workers in The Philippines who are responding the catastrophe caused by typhoon Haiyan.
The largest and most ambitious task for IFSW in 2013 however has been building on the successes of the Global Agenda for Social Work and Social Development. At the beginning of the year IFSW and partners launched the Global Agenda Observatory. The Observatory has been gathering information at national, regional and global levels on the challenges facing people and communities and social work solutions. This information will feed into a global report that will be published by Sage and launched at the World Conference in Melbourne next year.
IFSW has continued to promote the themes and commitments of the Agenda in United Nations sites in New York, Geneva, Santiago de Chile and Nairobi. Regional committees have also maintained strong advocacy links with their regional political structures. Simultaneously IFSW has also worked successfully with the Guardian and published a number of articles promoting social work in their online editions, which reaches 80 million readers. The issues we have reported relate to 'the negative effects of austerity', 'the need for international regulation of economies and trade systems to address the causes of poverty', reporting on social work in a number of specific countries, and calling on governments in the African region to match social development with economic growth.
Summary
As you can see 2013 has been an active and politically focused year. Looking forward to next year and beyond, we are set to build upon our learnings from the past and we expect to be able to increase our impact in 2014. If you have not yet seen the 2014 World Social Work Day Poster please view it here. The poster promotes that social work is a part of the answer to global problems.
Please let us know if you have any suggestions. It is vitally important that we represent our member's views at a global level. To provide feedback we have developed an online survey so that we can gather all your feedback. Please click here to access the survey.
Thank you for your continued support. Your contributions and your actions make IFSW possible. Wishing you seasons greetings and the very best for the New Year.
Dr Rory Truell
Secretary-General