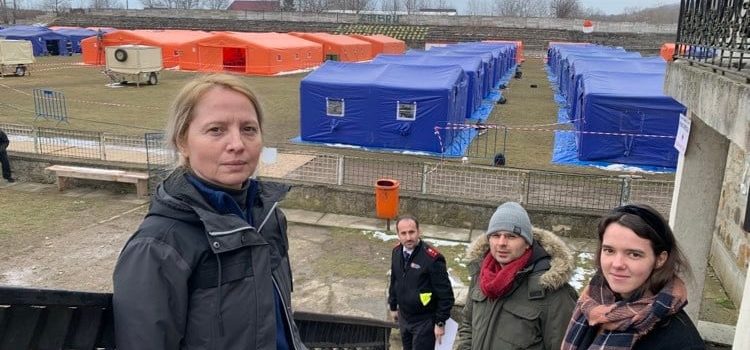 In response to the invasion of Ukraine, funding is being directed to IFSW Europe in recognition that a social work approach includes meeting the immediate needs of people in the crisis and working with them to make hope for positive change a reality in the future. Together that hope will be realised by social workers and communities rebuilding the physical and social infrastructure once the crisis is over. This long-term perspective is a unique feature in the historic role of social work in communities and is often missing in humanitarian aid approaches.
Currently social workers are working with people who are distressed and frightened. They don't know where to find their family members. Some they left behind in Ukraine, others escaped at different times and contact has often been lost as they are in different countries. Many are worried about their husbands, brothers and fathers remaining in the war zones.
The skills that social workers are using include providing practical support in the form of food, medications, hygiene products, blankets, and clothes to create an environment where people feel that they matter and belong – albeit temporarily. In addition, they facilitate peer and community support, provide counselling as well as guidance on their social rights, coordinate mobile services for people who are disabled, support people with deteriorating mental health, those experiencing poverty, trauma and the challenges of being in temporary over-crowded in accommodation.
The social work profession has listened to stories from refugees around the world that say a major long-term fear is that they will not be able to return to their homes and communities and may remain in a citizen-less refugee status over several generations.  This lack of dignity and respect for the person undermines social justice, leaving many feeling ignored and marginalised. These may form the roots of social ill-health.
This approach has been recognised and built on through the post-disaster work in the IFSW Asia Pacific region. The IFSW Japanese members have responded immediately to this disaster in Europe by raising funds for the long-term investment in social work co-designing and co-building with communities their sustainable and dignified futures.
Ana Radulescu, IFSW European President said, "Thank you so much to the Japanese and other IFSW members who have given their full support. As we respond to the immediate needs and look ahead to contributing to the rebuilding of the social infrastructures such support is invaluable. Together we will get through this."
Below is the statement from The Japanese Federation of Social Workers:
The Japanese Federation of Social Workers (JFSW) responded to the emergency statement issued by the International Federation of Social Workers (IFSW) on February 24 regarding the military aggression in Ukraine.

JFSW supported this statement on March 2 and made clear that we are deeply concerned about the large number of casualties that have occurred in the military invasion of Ukraine by the Russian government, and earnestly call for the immediate cessation of military aggression and the rapid restoration of stability in the lives of Ukrainian people based on democracy.

In the Japanese amplification of the Global Definition of the Social Work Profession, we made the affirmation in the wake of past wars that peace is the cornerstone of respect for human rights, and added that social work should 'strive for peace' as a principle of social work practice, so that the guarantee of basic human rights, democracy, and pacifism can continue to be upheld in the future.

As fellow social workers, we at JFSW are proud of, and express our respect and admiration towards the work of social workers in the IFSW European Region, who have been assisting refugees who crossed the border to seek safety after military operations began in Ukraine and have taken refuge in neighboring countries such as Poland, Moldova, Hungary, and Romania.

JFSW launched a donation campaign on March 10. Currently (as of March 31), approximately 9,410 euros (1,269,000 yen) have been collected. As a first step, 6,137 euros were sent to IFSW Europe. This donation campaign by social workers in Japan is still going on, and a second donation will be sent as well. Japanese social workers are united with their colleagues in IFSW Europe in heart, and hope that the donation from Japan will be used to support Ukrainian refugees.