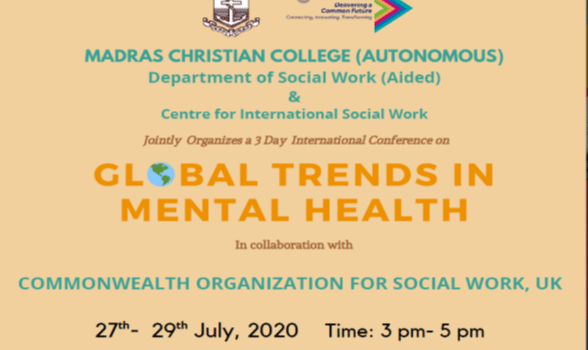 The Commonwealth Organisation for Social Work (COSW) is proud to announce its first ever global webinar series on 27, 28 ,29 July 2020.  The webinar has been developed by Madras Christian College Department of Social Work, India, working closely with COSW.
Three webinars with 2 sessions each cover all regions of the Commonwealth, including contributions from Australia, Barbados, India, Malawi, Malaysia, Malta, UK, Zimbabwe, illustrating common social work challenges across the Commonwealth and elements specific to countries and regions.
Presentations include:
COVID-19 and Global Mental Health Response – Dr. Tatiana Taylor Salisbury, Kings College London
The Pandemic as a National Emergency – Lessons from the Caribbean – Dr Letnie Rock, UWI
Mental Health Issue, Challenges and Intervention among the Special People – K. S. Ramesh, COSW
Commonwealth Countries Charter and Social Work Shared Values – Ai Hua Teoh, COSW Chair
Recovery from Trauma – Pamela Trotman – Australian Association of Social Workers
Mental Health Issues & Trends in Africa – Noel Muridzo – President, IFSW Africa
Mental Health Issues & Trends in Europe – Dr. Josiane Scerri, University of Malta
With participation of Sriganesh M. V. – Vice President, IFSW Asia Pacific; Dr. David N. Jones – COSW Representative, Commonwealth Institutions; Dr. P. Wilson – Principal, Madras Christian College (MCC); Dr. Godfred Boahen – Policy, Research and Practice Improvement Lead, British Association of Social Workers; Dr Miriam Samuel – (MCC); Dr Prince Annadurai – MCC and Dr Sylvia Daisy Romanus – Madras Christian College & COSW and others.
Register for this historic social work development in the Commonwealth HERE