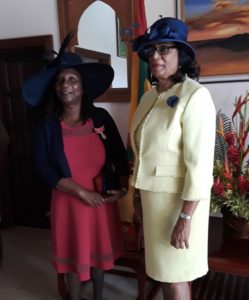 Grenada Association of Professional Social Workers (GAPSW) congratulates its Vice President Mrs. Ann Greaves in receiving her award BEM (British Empire Medal) from Her Majesty Queen Elizabeth for her contribution to social work in the area of Child Protection and Mental Health.
Mrs. Greaves started her career in social work in 1985, since that period she has worked tirelessly in advocating for vulnerable people both in the UK and Grenada. Mrs. Greaves was the Chairperson of Grenada National Coalition on the rights of the child (GNCRC) from 2011-2015. She is currently the vice- chairperson of GNCRC, and also serves on other various boards.
As a member of Friends of the Mentally Ill, Mrs. Greaves goes the extra mile to support some very vulnerable persons in the community.
This award is very deserving and GAPSW is very proud that this noble profession has been recognized for the worthy contribution to humanity. Mrs. Greaves can be described as a 'sample' and 'example' for being a human rights and social justice advocate, promoting and protecting the rights of the vulnerable members of society.
Submitted by Grenada Association of Professional Social Workers.