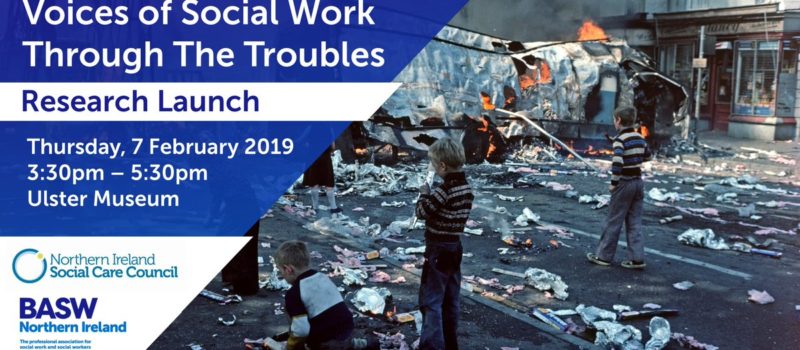 The findings of pioneering research exploring social workers' role supporting vulnerable children and adults during the Northern Ireland conflict was launched on Thursday in the Ulster Museum, Belfast.
The culmination of a two-year study conducted by an international team of academics, Voices of Social Work Through The Troubles, gives a platform to social workers as they recount putting their safety on the line—working behind barricades and amidst bomb-scares—to protect people at risk of abuse and neglect.
Carolyn Ewart, National Director of the British Association of Social Workers Northern Ireland, said: "Voices of Social Work Through The Troubles is a vitally important document. It records, for the first time, the remarkable experiences of social workers during a period of intense conflict, when it often felt as if the fabric of society was tearing apart.
"The research highlights social workers routinely operated in situations marked by mistrust, sectarian hatred, and violence, and focuses on the profession's previously unrecognised work, including supporting victims and families in the wake of unspeakable atrocities. These extreme situations became standard for the social workers involved, and they displayed courage, resilience and an unwavering commitment to the needs of their service users throughout.
Commenting on the report, social worker Mary Anderson—a contributor to the research—said: "My colleagues and I faced many challenges during The Troubles.  However, working in a setting where there was constant military presence and paramilitary threat became normal, and though I took risks to my personal safety, I didn't always realise it at the time.
"Despite the severely testing environment, my focus was on delivering services to those who needed them, regardless of their background or circumstances. By reflecting on this strife-torn period I am pleased lessons have been learned which will inform social workers practising in the many areas of Northern Ireland which continue to endure the terrible influence of paramilitarism. I am pleased that insights will also be shared to support colleagues working in societies marred by conflict across the globe."
IFSW President Silvana Martinez, Secretary-General, Rory Truell and immediate past-President, Ruth Stark attended the launch of the report in Belfast. In his address at the launch, Dr Truell discussed the global importance of the Voices of Social Work Through The Troubles research, highlighting the impact it will have on improving support for social workers working amid conflict throughout the world. He acknowledged that the global profession over the past decades had failed to provide support for social workers in war zones saying,
I also want to use this occasion to make a public apology on behalf of the International Federation of Social Workers to all social workers throughout the world in situations of war. As a global profession that sets policies, develops guidlines and provides visibility on the role of social work, we were not there to help you. We did not facilitate public understanding on your role, the immense challenges you underwent.  We at the global level were not there to grieve with you, to tell others about your achievements, or to acknowledge the role you played in putting the safety of children and vulnerable people before your own. This report and evidence collected from social workers in other war and conflect zones will be used to develop global awareness, policy, understanding and education on the role of social work in conflict.
Download Voices of Social Work Through The Troubles 
A video of the launch of the report is available through Facebook here