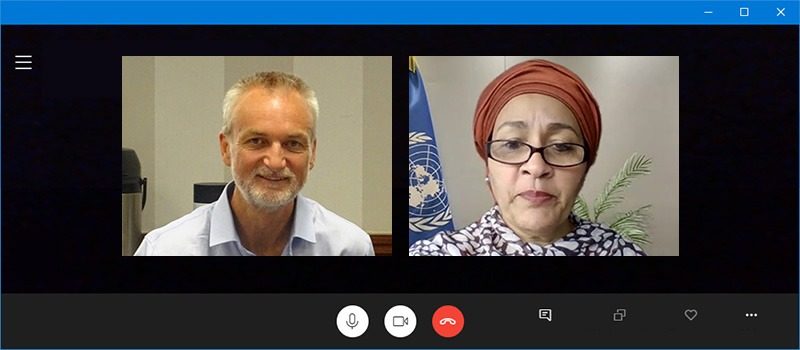 The Deputy Secretary-General of the United Nations, Amina Mohammed and IFSW Secretary-General Rory Truell spoke yesterday on strategies for advancing social development during and beyond COVID-19. The video meeting took place at the request of UN Secretary-General António Guterres.
Ms Mohammed commenced the meeting by relaying the UN Secretary-General's and her own appreciation to social workers globally for their work at the front-line of development. 'We owe them our thanks' she said.
Ms Mohammed described the world in a state of 'development emergency' with the pandemic pushing more people into poverty and uncertainty. She recognized the important role of professional associations which have local knowledge of communities as well as local and national governments and their key role in the development agendas. 'If you don't work at the local community level you don't have a foundation to build upon' she said.
Rory Truell noted that social work professionals are deeply connected to communities and societies throughout the world. 'Social workers recognize communities' strengths and informal systems of care and we assist them to develop further capacity to lead their way own way out of poverty and exclusion and to new futures of social and economic development'. 'Yet it is essential', he said, 'that community aspiration and the facilitating role of social work is clearly linked to the global sustainability agendas'. He further spoke on the importance of expanding formal social protection systems (social welfare) as well as reshaping welfare to focus on real community needs, rather than policy objectives which have often been developed away from communities.
The high-level meeting concluded with a positive forward-looking agreement for further urgent discussions and actions that bring together the role social work in communities and the global UN development agendas.
IFSW President Silvana Martinez commented today: 'This important meeting reflected the outcomes of the IFSW consultation for the 2020-2030 Global Agenda for Social Work which concluded last month. This meeting advanced the need to co-build social transformation with communities, especially vulnerable people, along with local, national and global policy. The meeting also affirmed the critical importance of social work to every society in advancing all people's rights. We welcome working with the United Nations and all partners and co-building a world build on equality and social, economic & environmental sustainability'.