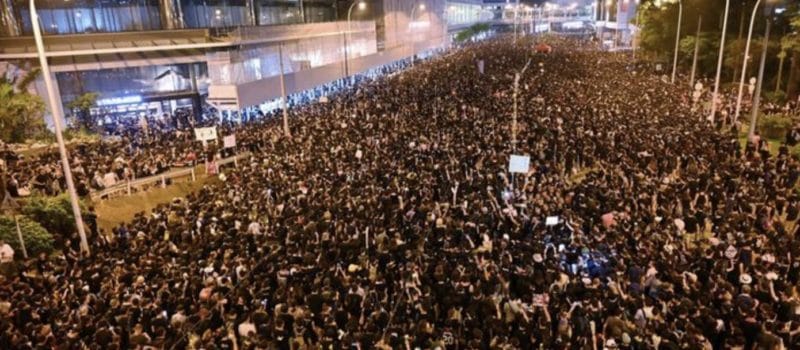 Statement of Hong Kong Social Workers Association (HKSWA):
It has been nearly three months since the heated social unrest caused by HKSAR's (Hong Kong Special Administrative Region) proposal amendment of the Fugitive Offenders Ordinance and the subsequent demonstrations. Social confrontation keeps escalating. Although the HKSAR Government has announced it had put a stop on the legislative procedure of law amendment, it is yet to give a positive reply to the common appeal of the different sectors in the community and the protestors.
The HKSWA strongly condemns laying the charge of riot against Ms. Jackie Chan Hung Sau, a frontline social worker for discharging her social worker's duties on 31 August 2019, as well as some other social workers for unjustified arrests in the past three months when they tried mediating between the police and the protestors during the rallies.
In the various incidents of social confrontation, social workers uphold the mission of the profession. According to the Code of Practice for Registered Social Workers issued under our Social Workers Registration Ordinance, the first and foremost value and belief of registered social workers is to help people in need and strive to address social problems and help responsible for safeguarding human rights and promoting social justice. Thus, social workers deliver their work in alignment with the core social work value and Code of Conduct, is recognized by our profession.
Lately, however, there are repeated incidents that social workers were arrested while performing their professional duties, or even being charged with rioting.
The HKSWA expresses our indignation. We restate here that social workers will continue upholding the mission and code of conduct of the profession when carrying out their job duties or volunteer work in the scene of confrontations. Social workers will try their best to protect the basic safety and human rights of people, provide appropriate emotional support on-spot and follow-up as necessary. We urge the police and the judiciary to ensure the basic human rights of all citizens and a fair judicial proceeding for people under unrest. By Hong Kong Social Workers Association (Released on 4th Sep 2019)
IFSW Secretary-General, Rory Truell said, 'The Federation fully supports the actions of the Hong Kong Social Workers Association. We acknowledge the extreme courage and bravery of social worker's defending human rights and promotion of non-violent forms of expression. As a global profession that stands for democracy with people who are marginalised, oppressed, abused or disadvantaged, we know that rights are never given – they are demanded by people, by communities, by actions and won. The social workers in Hong Kong are an inspiration to the global profession, as are social workers in every country that stand for human rights and social justice. IFSW calls for the immediate release and withdrawal of charges against all social workers who are protecting people's dignity, rights and working towards sustainable societies.'