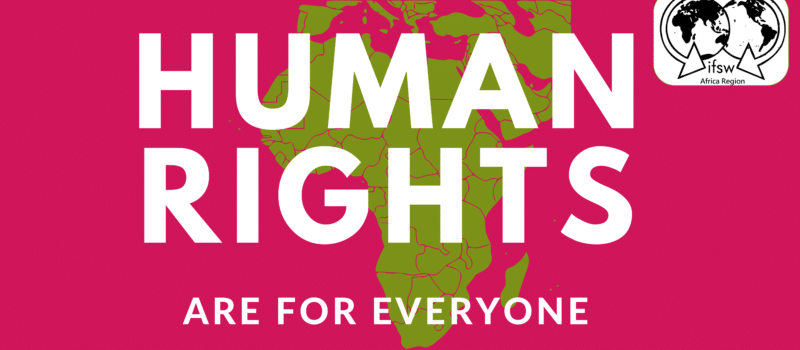 IFSW African Regional Human rights commission
Concern on human rights state in the Region
The IFSW African Regional Human rights commission's attention is drawn to some social injustices and human rights abuses being perpetrated across Africa. The continent is drifting towards extreme human rights abuses that are not only shameful, abhorrent, degrading, inhuman but fundamentally immoral. There must be a stop to targeted and extrajudicial killings, rape, human trafficking, extreme violence, religious intolerance, and social, political, and economic abuse that are denying hope to millions of Africans and making some parts of the continent unsafe to live. We are calling on the African leaders to provide a safe social, political and economic environment for the growth and development of the continent.
The viral video circulating online recently, where students were ordered by armed fighters to strip naked under compulsion of gunshots at close range is a gross abuse of human rights. Being clothed is part of being human and forcefully removing these clothes is dehumanizing and torturing thereby resulting in the violation of their basic "Rights to Human Dignity".
Local social workers have reported that similar violence has been rife in Cameroon's North-West and South-West regions since 2016, as armed separatists seek independence for the country's minority Anglophone regions. Separatists targeted civilians, including aid workers, students, and teachers, while continuing to enforce a boycott on children's education. Security forces have also committed a litany of abuses including the killing of civilians, arson, sexual violence, and torture of suspected collaborators with separatist groups.
As social workers locally and regionally, we call on the relevant authorities in the region to work with us to establish actions to remediate and control these inhuman situations across Africa.
Some of the notable human right violation in Africa includes but are not limited to;
The reoccurring Xenophobia cases in South Africa.
The Anglophone crisis of Cameroon.
The Kenyan shrinking civic space, increasing cases of banditry, and extra judicial killings
The Nigerian Boko Haram terrorism and cases of banditry.
Coup Puts Rights at Risk in Burkina Faso.
Continued civil war in Ethiopia Tigray region.
As social workers in the African region, we are aware that all people have the tools of ubuntu to work together to resolve any challenges and tensions. It is our joint responsibility to utilise our African philosophy to bring certainty, peace, and respect to our societies.
IFSW African Regional Human rights commission