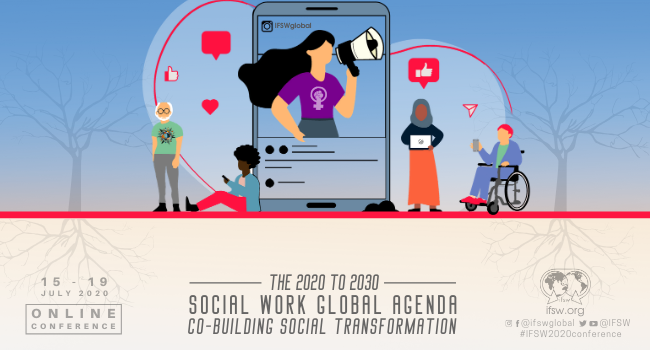 IFSW has launched the 2020 Online Conference that will explore and discuss the strategy of the social work profession for the next 10 years. The Conference title is: 2020 – 2030 Social Work Global Agenda: Co-Building Social Transformation.
The Online Conference has been designed in accordance with the social work principles of inclusion and participation and therefore for all are able to learn, share and contribute free of charge.
The title of the Online Conference includes the words: 'Co-Building Social Transformation' which refers to social work objectives of working towards a socially justice, fair, and sustainable world in partnership with families, communities, societies, and mass social movements.
Silvana Martínez, IFSW President and Rory Truell, IFSW Secretary-General said, "We look forward to your participation in this forward-thinking, innovative and inclusive conference. Whether you are a social worker, a student, social development professional, or a member of the community that seeks social change your perspective is needed, so please register your participation. IFSW look forward to engaging with you in July."
Find the Conference website here
#IFSW2020conference