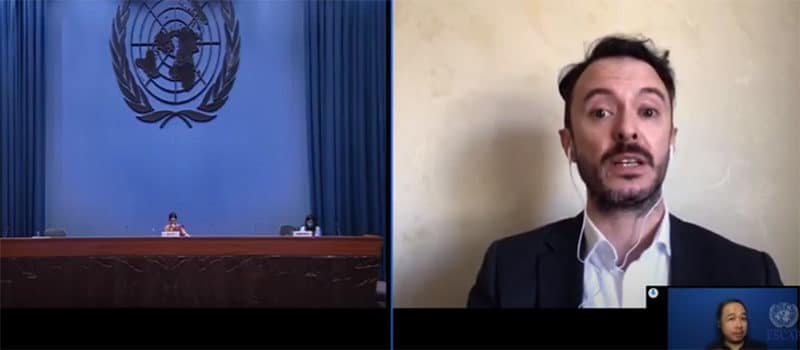 The IFSW's United Nations Asia Pacific Representative, Dr Sebastian Cordoba addressed the United Nations Economic and Social Commission for Asia and the Pacific (ESCAP)'s  Committee for Social Development Sixth Session this month calling for greater action on social protection in the region and recognition of the role of social work.
The ESCAP Committee for Social Development meets annually and this year, member states were discussing the Action Plan to Strengthen Regional Cooperation on Social Protection in Asia and the Pacific.
In his statement to the UN, Dr Cordoba highlighted the urgency of the crisis: "The region is dealing with a once in a generation pandemic and the worsening impacts of climate change. Prior to Covid-19, the region's investment in social protection was already lower than the global average, resulting in 60 per cent of the population remaining vulnerable. Covid-19 has only worsened this situation and that is why the Action Plan is so important."
The statement called for governments to invest in social protection, as a comprehensive system contributes to the reduction of poverty, reduces inequalities, contributes to social cohesion, and lays the base for a socially, environmentally and economically sustainable future.
The event was also an opportunity to highlight to the UN the role that social workers play in the social protection systems. Social workers are essential workers, and it is the key profession associated with the implementation of social protection systems. That is why social workers we are such important partners for the successful implementation of the proposed Action Plan.
"Social workers bring their direct practice skills and knowledge to work with people who are marginalised and excluded and advocate for inclusive and supportive societies that address structural, social and cultural barriers. We see the daily and devastating realities of support systems that discriminate and blame people for circumstances that are completely outside of their control."
You can watch the full statement here (from minute 01:56:00)
The IFSW was granted Special Consultative Status by the UN's Economic and Social Council (ECOSOC) and represents a social work perspective to the UN and the UN Agencies and to work towards joint action based on social work principles.