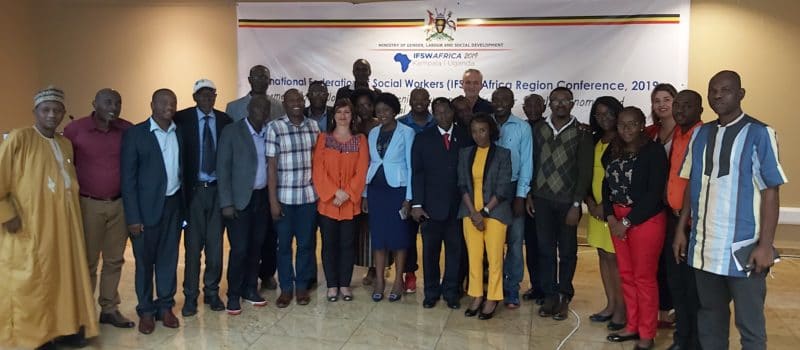 Today, we held the IFSW Africa Regional Meeting.
The Presidents of 15 IFSW member organizations attended along with Noel Murdizo, IFSW Regional President, and Joachim Mumba, IFSW Regional Vicepresident. Silvana Martinez and Rory Truell were also present.
The regional meeting developed strategies plans and discussion centering on increasing cooperation and visibility of the profession in Africa. One of the key points was the formation of the African regional executive. Each country president reported on the challenges and provided updates of their successes. A common theme that emerged from these reports was a need for governments to more clearly understand social work and to develop policies and laws to support social workers in their role of providing development. A further commonality was the need for minimum standards in social work education to enable graduates to have the best possible training available.  Despite these challenges, the President´s reports show a growing strong and confident profession
The two new African members were admitted last week into IFSW membership, DR Congo and Togo, were congratulated for having succesfully met the criteria and being voted in by IFSW global members.
Silvana Martinez thanked the meeting noting that the challenges they face can be significantly reduced by increasing the visibility of the examples of their wonderful practice which would inspire governments and others to take notice.
Noel Muridzo who chaired the meeting commented that "we have the capacity and the strength to continue to build a profession in this region and we will go from strength to strength".