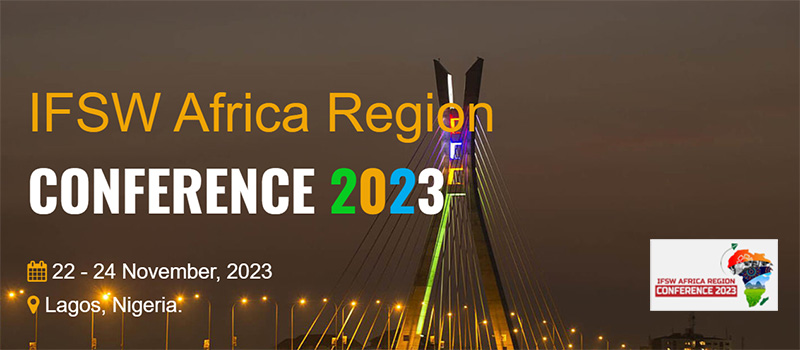 In a world marked by constant transformation and an ever-evolving social landscape, the role of social workers has never been more crucial. Across Nigeria, Africa, and the entire globe, these dedicated professionals play an instrumental role in addressing the complex web of social issues that plague communities. To explore innovative solutions and discuss the emerging challenges faced in Africa, the International Federation of Social Workers (IFSW) has chosen Lagos, Nigeria, as the host city for its African Region Conference, with the theme "Emerging Social Problems in Africa: The Response of Social Work Practice." This conference is a critical gathering for all social workers, both in the region and globally, as it provides a unique platform for networking, knowledge sharing, and the development of collaborative strategies to tackle the continent's pressing social issues.
Africa, despite its remarkable cultural diversity and rich heritage, faces an array of pressing social problems that require immediate and effective solutions. Poverty, inequality, inadequate healthcare, education, and housing are just a few of the myriad issues plaguing the continent. With the adverse impacts of climate change, political instability, and the COVID-19 pandemic, social workers in Africa find themselves at the forefront of efforts to create positive change.
In this context, the IFSW African Region Conference becomes not just a conference but a beacon of hope for those seeking to address these challenges effectively. It provides a space for social workers to share experiences, strategies, and best practices while forming meaningful connections with peers, stakeholders, and policymakers.
The Significance of the IFSW African Region Conference
1. Knowledge and Skill Enhancement:
The conference in Lagos will offer an array of workshops, seminars, and panel discussions, led by experts and thought leaders in the field. Attendees can expect to gain valuable insights into the most current and effective social work practices. This knowledge is essential for building the capacity of social workers to respond to emerging social problems with evidence-based solutions.
2. Networking Opportunities:
One of the most significant advantages of attending the conference is the opportunity to connect with fellow social workers from around the globe. Sharing experiences, strategies, and ideas is crucial for developing a global perspective and finding innovative solutions to Africa's social challenges.
3. Advocacy and Policy Development:
By attending the conference, social workers can actively participate in the development of policies and strategies that can bring about sustainable change. The knowledge and insights gained at the event can be channeled into local, regional, and international advocacy efforts to improve the lives of the people they serve.
4. Empowering Communities:
The conference will empower social workers with the tools and knowledge needed to empower their communities. Whether it's through improved mental health services, youth empowerment, or the fight against gender-based violence, attendees will be equipped to make a real difference in the lives of the vulnerable populations they serve.
The IFSW African Region Conference in Lagos, Nigeria, with the theme "Emerging Social Problems in Africa: The Response of Social Work Practice," will presents an extraordinary opportunity for social workers from Nigeria, Africa, and across the globe to come together, collaborate, and strategize for a brighter future. The challenges facing Africa are vast, but through collective efforts, innovation, and collaboration, social workers can play an instrumental role in creating lasting, positive change.
This conference is not just a gathering of professionals; it is a call to action, an opportunity to learn, grow, and empower both the individuals they serve and the communities they work in. It is a vital step towards a brighter, more equitable, and socially just Africa, and it's a chance that no social worker can afford to miss. So, let us all unite in Lagos, Nigeria, to make a difference in the world, one community at a time.
Pius E. Akah

Social Work Department
University of Calabar