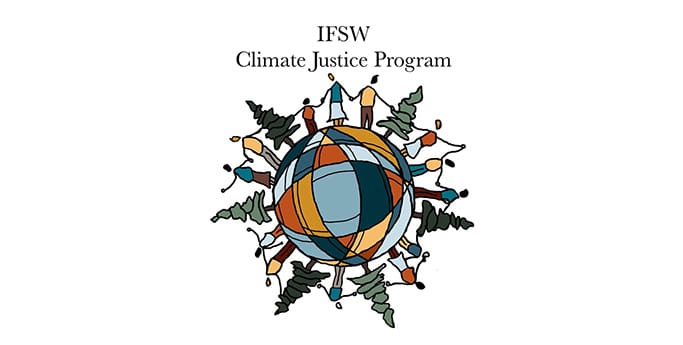 Last week's Climate Report by the UN's Intergovernmental Panel on Climate Change (IPCC) (1) highlights significant global concerns on climate change and a call for immediate and drastic changes to prevent an escalating catastrophe. The IFSW Climate Justice Program offers this statement as a way to interpret the Climate Report through an ecosocial worldview lens; and, to encourage us all in our roles, responsibilities and relationships within and beyond the UN Sustainable Development Goals (SDGs), as we collectively continue co-building a new ecosocial world with a sustainable future for all (2).
The Climate Report documents the most recent and extensive research available on climate change, with stark evidence unequivocally linking human activities to temperature and sea-level rise. It is increasingly clear that climate change exacerbates ongoing injustices of racism, known as environmental racism. Additionally, climate change is causing wider negative effects on entire ecosystems, leading to deaths and/or the annihilation of communities and the extinction of species and habitats, especially for those in drought-prone and coastal regions (1).
IFSW Climate Justice Program Director, Dr. Meredith Powers, stated: "while the IPCC Climate Report is grim, it is not at all shocking news; rather, it offers further confirmation of what many people are already attentive to, have been enduring, and are actively addressing." We want to acknowledge that the data presented in the IPCC report is more than mere statistics. As IFSW Africa Region President, Dr. Noel Muridzo, noted: " living with climate change and its effects of displacing people from their families, their work, their cultures, is a reality for many people throughout the world."
This expanding climate crisis creates a daily, visceral trauma response on a holistic level (physical, spiritual, mental, and emotional). Trauma often causes people to "freeze" or feel a sense of paralysis, apathy, or inefficacy, also triggering compassion fatigue, climate anxiety, grief, depression, and "disconnection". We use the word disconnection in quotes to emphasize that we cannot ever be fully disconnected.
The current Global Agenda theme (3), "Ubuntu" ("I am because we are"), provides us all with the opportunity to reflect on how we can connect in order to protect and advance human rights, nature rights, social justice and sustainability for all. The examples from Ubuntu show us that we are in relation with each other, the individual IS the collective, and the collective is a part of the environment to which we are interdependent. Now is a crucial time to support each other to respond with collective action at the household, community, provincial, societal and global levels.
By remembering our original connections and fostering reciprocal and relational healing (4), we can read the IPCC report and respond, moving beyond our fear. Dr. Leah Prussia reminded us in a recent webinar, called "Full Circle: Nature's Wisdom and Embodied Healing," that through embodied relationship with the natural world, such as mindful presence with other species and physiological connection with the land, humans more readily access the innate ability to regulate their nervous system with the collective nervous system of the planet (5). This mindfulness of our connections also helps us remember that we are not alone in our struggles, and that while we are not all facing the same impacts of climate injustice, we can build solidarity and work together on sustainable solutions, such as the creation of solar power and rainwater collection for communities in need. These projects are examples from a collaborative effort for collective healing being implemented in Puerto Rico by local grassroot groups in the aftermath of Hurricanes Irma and Maria, as reported by Dr. Yolanda Machado-Escudero (6).
As noted by Dr. Sebastian Cordoba at the UN ESCAP meeting on climate change last year, "social workers see firsthand the eco-social aspects of the SDGs and the need for systemic long-term a solutions for the wellbeing of the entire ecosystem, including humans, for current and future generations". It continues to be critical for social workers to join with others for individual and collective human behavioural changes, within and beyond the UN SDGs, to reduce our climate impact, mitigate climate change, and redress climate injustices. Additionally, from an ecosocial lens, we must explicitly call attention to the fact that the climate crisis is directly connected to specific human behavior operating within the flawed structures and systems of limitless growth ideology, colonization, extractivism, and capitalism from an anthropocentric (human-centered) lens. Thus, we must continue to elevate and mainstream an ecosocial worldview and Indigenous ways of knowing in our social work education, research, and practice. For more information or ways you can become involved, see the IFSW Climate Justice Program.