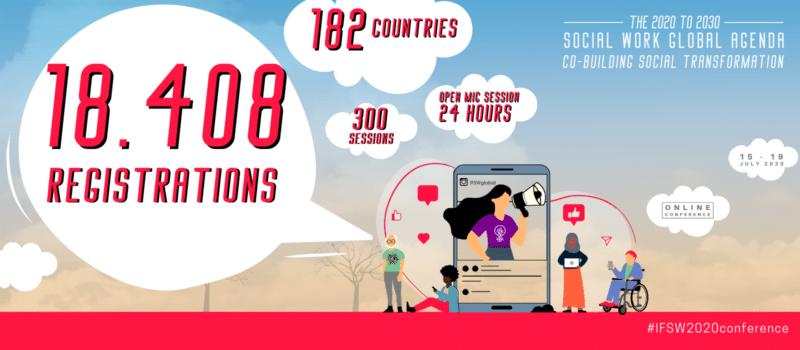 IFSW Secretary-General announced today that the IFSW online Conference, The Global Social Work Agenda: Co-building Social Transformation´ has 18´408 registrations with approximately 500 more coming each day.
"This is wonderful news", Rory Truell said, "The unprecedented interest highlights the profession´s commitment and success in bringing together political leaders, community leaders, representatives of people whom have experienced social services, United Nations leaders with social workers worldwide. Our common task in this conference is to develop the 2020 to 2030 Global Agenda Themes that will further strengthen the profession as a key partner in transforming the social concerns of the world´s communities in which we work", he continued.
The 18´408 conference participants come from 182 countries. In other statistics this week, IFSW expanded its country level membership last week when 3 new National Associations of Social Work successfully met the criteria for admission. IFSW now comprises 144 National Associations of Social Work or Unions representing social work.
IFSW invites all the Conference participants to join the conversation in developing the Global Agenda themes and share their proposals with the presenters in the more than 300 sessions, the live panels and a key area to contribute is the Open Mic session. The Open Mic session which runs 24 hours a day, providing opportunities for all participants to propose themes and discuss other people´s proposals. Access the Open Mic session from the conference programme.
IFSW President Silvana Martinez expressed her thanks to all the conference participants for sharing their contributions to the Global Agenda, "Across the world, social workers are interacting and sharing their conceptions on how to shape the next Global Agenda. Their views are of significant importance. I send them all a message of our appreciation. Together we will set the future".