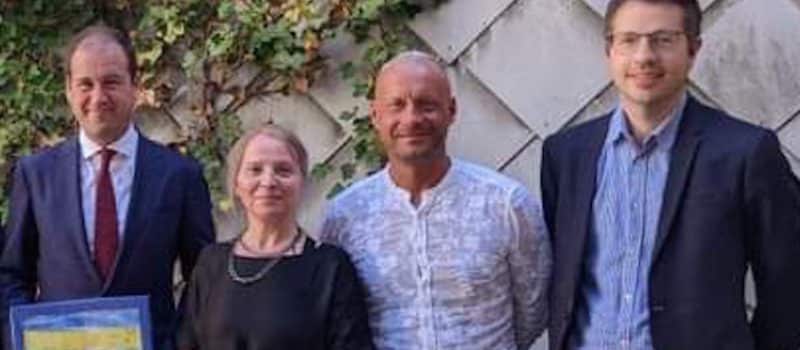 This week IFSW Europe was invited to a meeting at Social Platform in Brussels with Mr. Lodewijk Asscher, who was appointed by Commissioner Schmit as a special advisor on Ukraine to promote the social integration of Ukrainian refugees.
In addition to Ana Rădulescu representing IFSW Europe and the Community Social Work Centre in Kamianets-Podilskyi district of Ukraine, the meeting was also attended by: special representative, Marianne Doyen, from DG EMPL, European Commission, Alva Finn (Social Platform), Piotr Sadowski (Social Platform), Heather Roy (Eurodiaconia), Kahina Rabahi (European Anti-Poverty Network), Mariya Yasenovska (European Disability Forum).
The discussion focused on the need to develop specific social policies for Ukrainian refugees, as well as how to harmonize policies so that they are more suited to the needs and challenges of people who have similar needs.
IFSW Europe has been working on developing adequate social policies for a number of years. This meeting is part of these efforts.
IFSW Europe's main points at the meeting with Mr. Lodewijk Asscher were:
The professional support provided by social workers complemented and worked beyond humanitarian aid.
Ana Rădulescu presented the work of social workers supporting people fleeing from Ukraine. Complimenting and working beyond humanitarian aid, social workers continue to provide professional support to ensure refugees are at the centre of decisions that affect them and that all services respect the dignitary of people escaping war. Mrs Rădulescu continued that work is undertaken in asylum countries to ensure refugees are not only welcomed in the context of new temporary citizens with strengths and skills but also that the local vulnerable populations are benefited to avoid the political polarisation seen in previous refugee contexts. Professional support was provided not only in the border countries but also in all other European countries.
Community social services faced a higher demand for support, but no resources had been allocated.
The meeting confirmed that social services had significantly higher demands with the same number of social workers. It was further noted that people in Ukraine are moving towards community-based services support, but there have been no additional resources directed to them.
There is a need to harmonize policies for people with similar needs. 
It was highlighted that some of the countries bordering Ukraine are among the poorest in Europe and were experiencing significant difficulties prior to the extra demands from people escaping war. The meeting confirmed that is essential to develop policy and practice systems to meet the growing needs of refugee communities without causing tensions or gaps between the different local populations.
Establishing structures of funds that increase predictability in social services response.
The meeting affirmed that without a clear structure of funding, plans for essential services cannot be predicted or effectively developed. With the war continuing to affect people and the adversity in the face of rising global challenges connected with food, energy and finance, the meeting noted, that there will need to use a range of instruments developed to predict and respond to the catastrophic social consequences. IFSW Europe stressed the urgent need for early preparedness and timely, predictable and coordinated efforts enabling vulnerable communities and professionals to work together to create specific social protection systems.
Develop a systemic approach to integrate social and medical needs, especially those related to mental health.
The meeting noted that people fleeing Ukraine have suffered losses, and many children have been exposed to bomb blasts. Developing and providing integrated healthcare and social services is a priority in order to improve health outcomes, address the social determinants of health and increase the efficacy of health care and social services.
Plan resources for the vocational training related to access to the labour market
It was agreed that with the growing number of refugees, vocational programs must be upscaled, adapted, and reinvented. Support from the European Commission is essential to expand training opportunities such as language courses, cultural and ICT training, work-based learning, career guidance, entrepreneurship support, internships, and work placements. A strategic approach and resources are needed for formal vocational education and training. Providing migrants with vocational education and training can help them integrate into the labour market and find jobs that match their skills and qualifications.
Ms Rădulescu further emphasized that while the number of people fleeing from Ukraine has decreased, many of those seeking refuge in European countries continue to need integrated holistic support such as social welfare, medical care, support for reunification, and care for children.  She also spoke about the role of an IFSW partnership in Ukraine, which provides support to thousands of internally displaced peoples through the Community Social Work Centre, as well as co-developing plans for the province's economic and social development during and in post-war conditions. This regional project, she said, will be reviewed as a potential blueprint for national social policy and service development.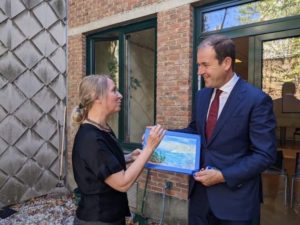 During Ana Rădulescu's visit to the Ukrainian Institute for Disabled People, one of the students painted artwork for Mr Asscher in gratitude for the support of the European Commission.