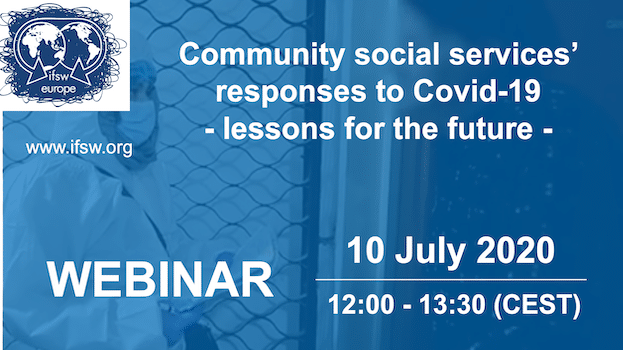 IFSW Europe Webinar, 10 July 2020 @ 12.00 – 13.30 (CEST)
Title: Community social services' responses to Covid-19 – lessons for the future!
Platform: ZOOM / English language
In many countries social workers are supporting communities that are affected or fearful of the Covid-19 Virus. Social work has an essential frontline role in the fight against the spread of the virus through supporting communities protect themselves and others through physical distancing and social solidarity.
This webinar includes a presentation on community work in times of corona:  lessons and ideas presented by Josien Hofs from Netherlands, examples from a small town community worker in the Netherlands, by Mariska Meinen MSW and Henk Meijer, neighborhood coach and reflection on citizen leadership and how to cope with distress in communities by Ruth Stark MSc, former president IFSW and Scottish social worker.
The webinar is moderated by Ana Rădulescu – President of IFSW Europe.
We are looking forward meeting you online!