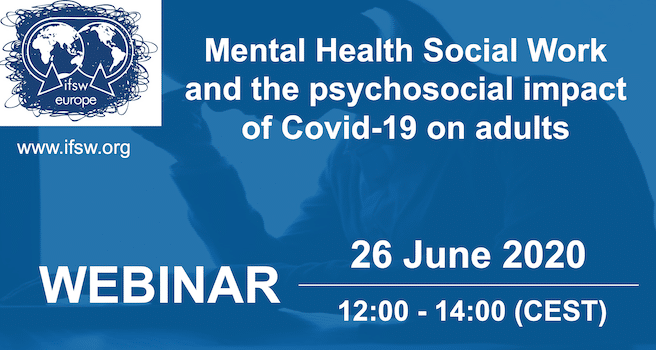 IFSW Europe Webinar, 26 June 2020 @ 12.00 – 14.00 (CEST)
Title:  Mental Health Social Work and the psychosocial impact of Covid-19 on adults
Platform: ZOOM / English language
---
General themes of the webinar: 
What's happening in mental health social work during Covid-19 / lessons learned
Post-Covid – is there an interest in developing a common mental health social work agenda in Europe?
What role for IFSW Europe as a vehicle to promote/ advocate for rights, etc., for adults with a mental health condition?
Speaker: Kerry Cuskelly is a Principal Social Worker in adult mental health services in Dublin, Ireland.  She has substantial experience of working in partnership with individuals, families and communities in relation to mental health. In supporting the response to changes in service provision in the context of COVID-19, Kerry has led on the development of initiatives in relation to the provision of tele-health and family-focused supports in mental health. Kerry is a member of the Irish Association of Social Worker's International Committee.
Webinar host:  
Ana Rădulescu, President IFSW Europe
John Brennan, Vice-President, IFSW Europe and Board member of the International Psychogeriatric Association.
---