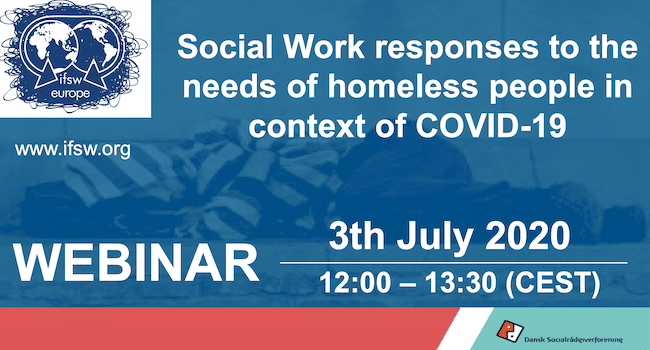 IFSW Europe Webinar, 3 July 2020 @ 12.00 – 13.30 (CEST)
Title: The Social Work responses to the needs of homeless people in context of COVID-19
Platform: ZOOM / English language
---
General themes of the webinar:
Whats happening in social work for homeless during COVID-19 /lessons learned.
Post COVID – is there an interest in developing a common homelessness social work agenda in Europe
What a roll for IFSW Europe as a vehicle to promote/advocates ect. , in making EU responsible for a common homelessness policy.
The homeless people are deeply affected by this crisis, both because of their inherent vulnerabilities and because of the services that have changed. Street homeless tend to fall under the higher risk category for severe COVID-19 disease, and a group which are in very High risk are the undocumented migrants from other countries.
That means providing care to the homeless is even more vital to them.
Social workers and social services are the providers conduct outreach to unsheltered homeless people who live on the streets, in parks, under bridges, and in encampments. In many places, good initiatives have been taken to address these problems: special care units for quarantine or isolation, for example, homeless people, food delivery, financial emergency funds from foundations, mobile test for covid-19 for the socially vulnerable,, an aid package.
Bo Heide- Jochimsen will give a view on the experiences in Denmark working with the most vulnerable homeless People's in the Streets.
There must be a follow-up based on the good steps that have already been taken.
Danish Association of Social Workers Message to the Government in order to continue to make targeted investments with social and health investments, the social workers in the field have both the courage and the ability to find new ways.
Birthe Povlsen from Denmark, member of the IFSW Europe Executive will inform us about the social workers approach in Denmark and invite to discuss the Roll of IFSW Europe.
Please do follow us on our website to keep up to date with any news, information, and for the next webinars!
---