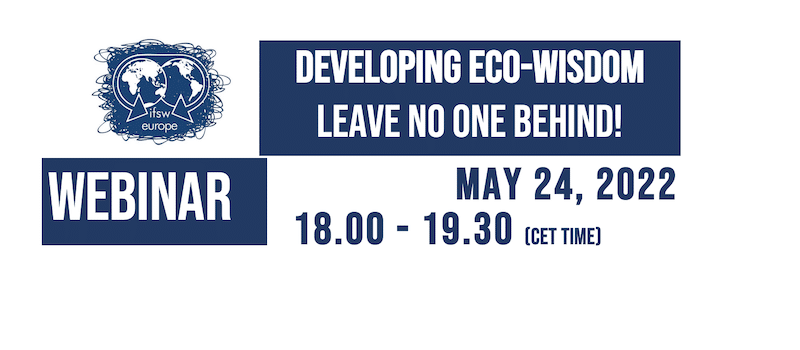 IFSW Europe – WEBINAR  – Developing eco-wisdom – leave no one behind!
Platform: ZOOM / English language
May 24th 2022, 18.00 – 19.30 hrs CET
Dear social workers, social services staff and managers,
We would like to invite you to take part in a webinar on climate change and the importance of the role social workers and community services have to play.
This event aims to:
Discuss the threat of climate change to the well-being and the human rights of the most vulnerable;
Exchange and develop ideas in order to support communities in vulnerable circumstances to get their voice heard and to stand up for their wellbeing;
Inspire and support one another through challenging times, that affect all of us.
Program organiser: Josien Hofs (The Netherlands) – IFSW Europe Executive Members
Speakers:
From Ireland:
Mary Hurley about the need of eco-social education and Maeve Foreman with the example of community gardening
From The Netherlands:
Vincent Frenken social worker, about his work during the floodings in 2021 and the need of thinking green
From Norway:
Kjersti Marie Grosvold Maudal about the role of social workers in working with indigenous people in Scandinavia – how climate change affects people depending on their land and what they might need
The webinar is free of charge, but registration is mandatory.
The focus of the webinar:
Knowing that climate change threatens the daily life of all of us, emphasizing the consequences for human rights and people in vulnerable circumstances, we will focus on the need to raise awareness among ourselves as social workers and among service users, and develop ideas how to support families and communities. There will be contributions from the Netherlands about the flood disaster, and experiences from Ireland and other countries. Of course you are emphatically invited to take part In the discussion with your questions, ideas and examples.
Issues to be discussed
The Human Rights issue
Poor people have the smallest carbon footprint and suffer the most
Ecological thinking In all our work
Access to affordable energy and clean water, enhancement of poor housing conditions
Build and support communities, how to think green when your bank account is in the red?
Examples
Collective action
Community gardening / cooperative farming
Green neighbourhoods
Outdoors activities – green mental health care
Energy coaching
Community building on climate and energy issues
Challenges
To cope with housings estates / corporations and energy suppliers / city councils
To increase the sense of urgency among social work and service users
Chances
New partnerships
Bring in social work values in the climate and energy debate
Promote eco-wisdom
We are looking forward meeting you online.
Ana Radulescu – President IFSW Europe