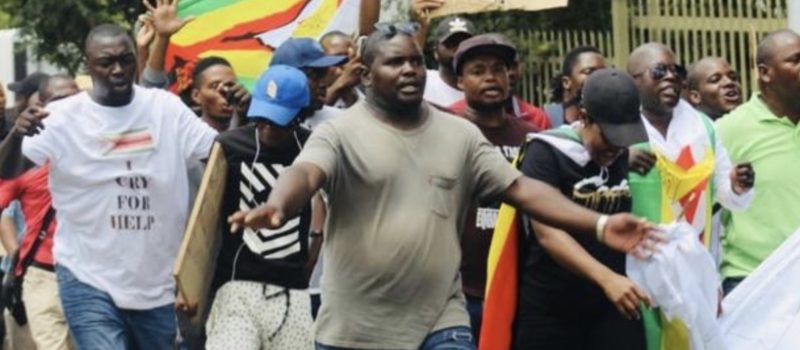 There is an unfolding and deepening humanitarian crisis in Zimbabwe. A rapidly declining economy has resulted in food and fuel shortages across the country. There is now limited access to health care, medical treatment and food.
Citizens men, women and children, who mounted protests regarding deteriorating conditions and the recent dramatic rise in fuel prices, encountered repressive measures – tear gas, bullet wounds and arbitrary arrests and detentions. Over eight have been killed and many seriously injured. To control the protests, authorities have shut down all internet services and social media, essentially cutting any outside contact and access to information.
This deepening human rights crisis has huge implications for social workers who have been providing services to citizens impacted by the deteriorating conditions and state repression. Social workers are in a precarious situation as they attempt to respond and uphold human rights while their own are under threat.
The IFSW Human Rights Commission and social workers globally stand in solidarity with the social workers in Zimbabwe. We strongly condemn the repression of the government and expect that human rights will be upheld, as is enshrined in the Zimbabwe constitution. Also, we call on the government to restore internet access in accordance with its constitutional and international obligations.
Colleen Lundy
IFSW Global Commissioner for Human Rights
Update sent to IFSW from social workers in Zimbabwe:
Yesterday (17 January), the Zimbabwean authorities shut down all internet services as they sought to forcefully contain the protests;
Images that have trickled out since yesterday indicate police and military heavy handedness in dealing with protesters;
The protesters are, children, women, young people, older people and Zimbabweans of all backgrounds;
It is a citizen's protest against ever deteriorating conditions of life and state repression;
As such there are children's, women's, older people's, civic and political rights concerns being violated against citizens by the state;
Under the cover of darkness caused by the internet disruptions and which is an attempt to conceal real time evidence of further human rights violations, the lives of many people are at risk;
Zimbabwe's record on human rights is appalling and recently, after protests over presidential results on the 1st of August 2018, six (6) people were shot and killed in broad day light and no one has accounted for this brutal disregard of the right for people to demonstrate, which is boldly enshrined on Section 59 of the Constitution of Zimbabwe;