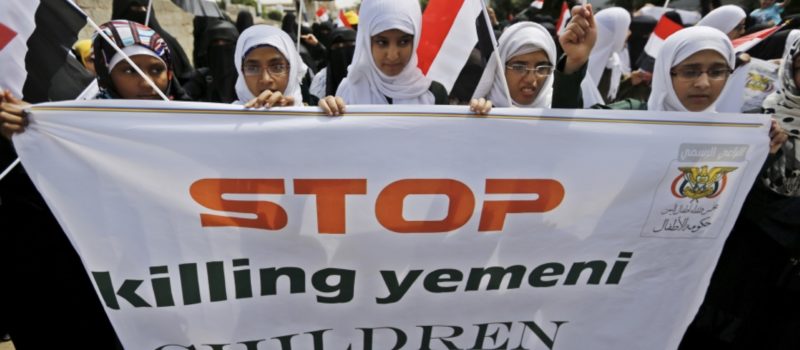 The IFSW Human Right Commission supports the initiative of the General Union for Sociologists, Social Workers and Psychologists in Yemen in assisting deprived children in the country, supported in part by a small grant from IFSW's Solidarity Fund. Social workers are doing what they can amid the deepening crisis in this country to ameliorate some of its harsh consequences on children and families. In addition, the General Union has called on IFSW to appeal to international organizations active in the humanitarian field to intervene and respond to the needs of people and displaced persons most affected by conflict and war in Yemen.
The ongoing crisis in Yemen, caused mainly by prolonged conflict, has led to staggering impacts on human life, basic public services, and the economy. UNHCR estimates that 80 percent of the population requires some form of humanitarian protection or assistance. According to UNICEF the health system is in near collapse with more than 19 million people lacking access to clean water and sanitation facilities, whilst over 14 million people are in desperate need of basic health care. Over 3 million people have been displaced and more than 40,000 people have been killed or injured, including more than 4,000 civilians. According to Save the Children, more than one million acutely malnourished children under the age of 5 – including almost 200,000 with severe acute malnutrition – are living in areas with high levels of infection, now made deadlier by an outbreak of cholera. This is the 'largest ever recorded' in a single year, with more than 360,000 suspected cases in the three months since the outbreak started.
The IFSW Human Rights Commission wishes to support the efforts of the Yemeni social workers to respond to and provide psychosocial support through the training of teams of social workers to work with affected children and their families in the war-affected areas of the capital Sana'a and elsewhere. We also call on our partners and supporters around the world to assist in any way they can. Ultimately a political settlement is required to bring this suffering to an end and the Commission calls on those involved to do all they can to achieve this.
See report on social workers actions in Yemen
Nigel Hall, IFSW Human Rights Commissioner.