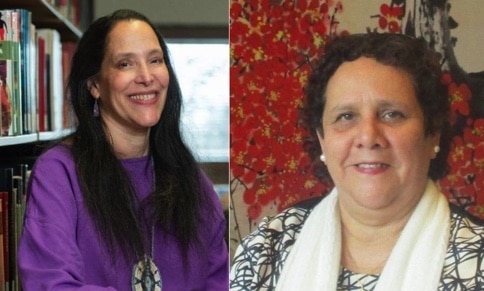 (photo:Hilary Weaver & Xanthis Suárez García)
The IFSW executive has appointed Hilary Weaver as the global Commissioner of the Indigenous Commission. Hilary, a Lakota social worker residing in Haudenosaunee Territory in North America said,  "My vision is to bring my knowledge, skills, and talents to work as a partner with the talented, skilled, and knowledgeable leaders from around the world already working within the IFSW structure. With such partnerships comes synergy and transformational energy to move our profession forward. I would welcome the opportunity to serve my chosen profession through IFSW".
The executive further appointed Xanthis Suárez García, a Nicaraguan social worker, to the position of global Commissioner of the Human Rights Commission. Xanthis has held many leadership roles locally and internationally. Stepping into this global role she said, "Social workers are human rights defenders and essential to every community. The Commission is ready to support them, to make their work visible in advancing social justice and to bring local social work human rights concerns to the global level.
Silvana Martinez, IFSW President welcomed Hilary and Xanthis. She said, there are many challenges the world faces and we are delighted to have two new Commissioners with extraordinary skills and experience to work alongside our other leaders as the profession moves from strength to strength in its pursuit of social justice.