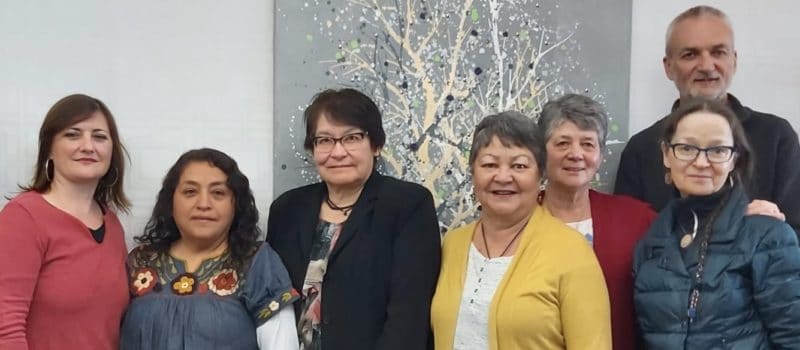 The International Federation of Social Workers Indigenous Committee is encouraged by SWSD2020 planning committee's commitment to ensuring local Indigenous voices and perspectives are included.
The Indigenous Committee of IFSW today concluded three days of intensive meetings in which they say important work has been done on starting to build a framework that will ensure Indigenous perspectives and ways of knowing will be incorporated into the International Federation of Social Workers and the global profession going forward.
The Committee members were welcomed to Calgary by Dr. Reg Crowshoe, elder, knowledge-keeper and former chief of the Pikuni who sang a welcome song and provided a local Indigenous perspective. Committee members said they leave Calgary feeling confident that Indigenous perspectives and ways of knowing will be included in the International Social Work Conference (SWSD2020) being held in Calgary, Canada July 15-18, 2020.
"We are heartened that the steering committee of the Calgary conference will be working with and guided by representatives of the Indigenous peoples of Alberta," committee coordinators Robyn Corrigan and Shannon Pakura said jointly. "Including their ceremony, perspective and ways of knowing opens the door for other Indigenous people from around the globe to also share their wisdom, culture and practices, with Indigenous and non-Indigenous peoples, allowing them to incorporate that knowledge into their practice and day-to-day lives."
The indigenous committee comprises representatives from the 5 regions Janestic Twikirizi (Africa), Linda Ford ( Asia Pacific), Margaretha Uttjek (Europe) Jenny Linares (Latin América and the Caribbean), Hazel Berg (North America). The committee met over three days and began the process of envisioning how Indigenous knowledge, culture, ceremony and ways of knowing can be advanced within the profession's structures.
Dr. Silvana Martinèz, President of IFSW, and Rory Truell, Secretary-General of IFSW jointly commented that, "We would like to thank the Indigenous Social Work Committee for their incredibly hard work over the last three days on the first-ever Indigenous Committee meeting of IFSW. It was truly a historic moment in the history of our organization and the framework they are building will ensure that the global profession will be strengthened by the important contributions of Indigenous peoples and social workers."
Members of the IFSW executive, Indigenous Committee, and local planning committee for the International Social Work Conference in Calgary, July 15-18