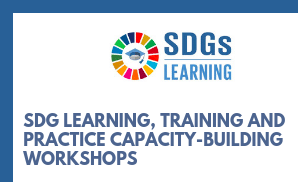 IFSW is contributing to the SDGs/ HLPF: The High Level Political Forum is the highest UN annual meeting on the SDGs. It contains a review of 6 SDGs and one overall theme. in 2019 the theme is: Empowering people and ensuring inclusiveness and equality. Beside the review of each SDGs, the UN is organizing SDGS LEARNING, TRAINING AND PRACTICE programs.
IFSW is co-organizing with Harvard University and the International Science Council a half day session on the theme  "Practices and approaches on quality education towards environment and climate" on Thursday, 11 July from 3:00 pm to 6:00 pm in conference room 5.
Content:

This session brainstorm on variety of approaches that formal (curriculum, pedagogy, cross-disciplinary linkages) and informal (such as NGOs working at the grass-root level) education systems can adopt to promote trans-disciplinary thinking essential for public understanding of the science of environmental degradation and climate change and (ii) to ways to obtain feedback from the community to design environmentally just sustainable infrastructure at local levels and identify ways to reverse and mitigate climate change at global levels. We would take up one or two case studies and demonstrate how education at formal and informal levels is key to develop appropriate sustainable infrastructure and propose models for further expansion of these methods across time and space.
In summary, we envisage the people of all age groups and socio-economic sections of the society to gain first-hand understanding of human-caused detrimental effects on their surrounding areas, make environmental problems more real, and empower marginalized communities to be included in identifying solutions that are socially, politically and economically just. We envisage forging new interconnections–between human and environmental concerns; between urban and rural problems; between phenomena operating in different parts of the world, and thereby, clearly demonstrating the close synergies between people, place and 2.