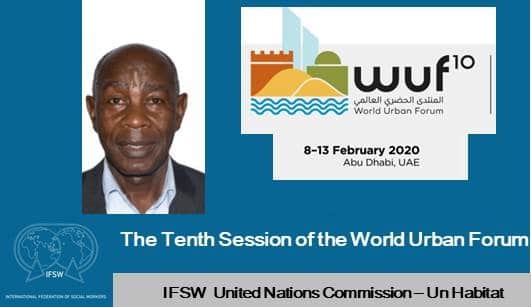 IFSW Rep to UN Habitat Charles Mbugua will represent IFSW at thee 10th World Urban Forum # WUF10 which will runs for six days opens on Friday in Abu Dhabi, United Arab Emirates. This premier event on cities in one of the most open and inclusive gathering of its kind on the international stage. It brings together national leaders, slum dwellers, ministers, women groups, mayors, youth, academia, diplomats, parliamentarians, local governments, diplomats and urban activists.
IFSW Representative to UN Habitat Charles Mbugua has been nominated a Rapoteur for the Stakeholder Round table on older persons, a session which will be moderated by a former diplomat Katherine Kline of New York and speakers from Brazil, Japan, China, Honduras Thailand, Canada, and United States.
The event takes place at a time when U N Habitat has been restructured to U N Habitat Assembly, a multi-stakeholder platform to provide advice, advocacy and influence for the development and implementation of international policy affecting human settlements.
Charles Mbugua has also been elected as a Co-chair of General Assembly of Partners – older persons Constituent group with 22 active member organizations predominantly in North and South America, Africa and Europe.
You can follow the event live stream on http://webtv.un.org/
More info on the event on https://wuf.unhabitat.org/node/145