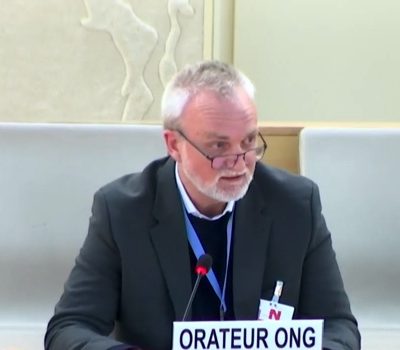 How people's rights are affected by international economic sanctions and what we can do about it….
"Working together all rights agendas can be addressed" were the concluding remarks of IFSW Secretary-General, Rory Truell speaking at the high-level 52nd session of the United Nations Human Rights Council on behalf of the IFSW UN Commission. He advocated that member states and civil society must work together to separate international sanctions, used to express international disapproval of a state's actions, from the consequences of increased poverty that diminish people's rights to health, freedom, dignity, and respect in local communities. The consequence for local populations is a reduction in social and economic investment and protection necessary for co-building a sustainable new eco-social world for everyone.  He proposed that a paradigm shift is now required in policy and practice, calling for joint work between governments and civil society to achieve a joint vision of peace and justice for everyone.
"International sanctions", he said are "implemented to express international disapproval of a government's actions but have unintended consequences for the people of that country, driving them into further poverty and isolation. They undermine the building of infrastructure necessary for social and economic development. We as global citizens need new practices to ensure that everyone's right to life, health and wellbeing is respected during political disputes or conflicts between states."
The IFSW statement was supported by the 'United Nations NGO Committee on Human Rights' as civil society organisations working in countries subject to sanctions witness the significant negative effects of sanctions upon populations that never voted for their governments. Such situations cause a double burden on populations suffering from their authoritarian regimes as well as from the international community's attempts to drive their economies into the ground. Sanctions as a method of political influence have been contested as often, they result in isolating the targeted regimes and reinforcing their control over the country's populations.
In the civil society statement, Rory Truell said that "the UN's commitment to a new eco-social world provides a paradigm shift. IFSW's recent work, in countries where these conditions exist, has shown that engagement between international communities, government and civil society is complex, possible and can be effective when focused on the common interest of people's health and wellbeing…. Our key message is that new practices need to be jointly developed that support people's health and social development separate from geo-political sanctions. We call on this 52nd session of the Human Rights Council to facilitate member states and civil society to develop these practice changes. Through such engagement, all rights agendas can be addressed."
The IFSW UN Commission global lead, Priska Fleischlin commented, "I thank Rory for providing this powerful speech. It is important to challenge the very blunt tool of international sanctions. This contribution to the UN Human Rights Council we hope will re-start new processes that examine people's right to development in all countries. Feedback from individual member state representatives, that were present in the proceedings, has already started to produce positive feedback. They welcomed the approach of working together, civil society and governments, in tackling these issues".
To watch Rory Truell's contribution on UN Web TV click below, this segment starts at 27:00 minutes into the video:
https://media.un.org/en/asset/k1u/k1uegvjcfj