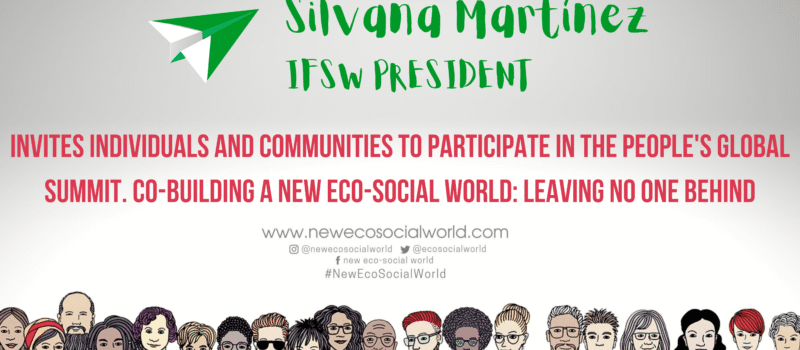 Silvana Martínez, President of the International Federation of Social Workers (IFSW), presents The People's Global Summit. Co-building a New Eco-Social World: Leaving No One Behind. https://newecosocialworld.com/
This summit will take place on June 29 – July 2, 2022 online and is an opportunity for all of us to get involved in building sustainable shared futures. The President of IFSW invites all social agents to present their contributions in this historic event that is inspired by the following principles and values:
Buen Vivir*, love and care of people and the planet, responsibilities and rights.
Respect, dignity, harmony and justice
Diversity, belonging, reciprocity and equity
Ubuntu**, togetherness and community
Join this global conversation and make your voice heard! https://newecosocialworld.com/
*Buen Vivir – an indigenous social movement from South America that describes a way of life and a form of development that sees social, cultural, environmental, and economic issues working together and in balance, not separately and hierarchically as at present.
**Ubuntu – an indigenous African philosophy based on people's interdependency and interconnectedness with their environment; I am because we are.