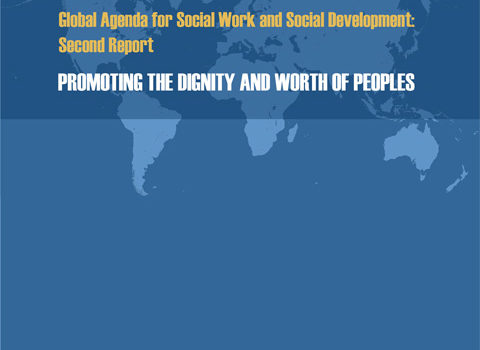 In the United Nations world social work day event on Monday 29 March 2018, IFSW Secretary-General Rory Truell called for the joining of the global social work organisations.
Speaking as part of a panel with Annamaria Campanini President of International Association of Schools of Social Work and in front of an audience of 700 UN officials, social workers, educators and students, Dr Truell concluded his speech with key calls for action on strengthening the social work profession to meet global challenges including environmental justice.
The International Federation of Social Workers has on previous occasions invited the International Association of Schools of Social Work to enter talks to strengthen the profession, but they declined citing that they have a unique role to make to the profession.
At an interview after the UN Speech Dr Truell said, "It was a historical mistake that social work split education and practice into separate organisations which has been a constant barrier in the profession. The people who use social work services deserve a profession that not only involves them, but also where teaching and practice directly inform one another. We realise of course that the two organisations have different operational cultures which make joining together challenging, but through a respectful process, I am sure we can find solutions that are the best for the profession and uphold the dignity of the histories of both organisations".
This year makes the 90th anniversary of the birth of the committees that were formed in Paris when world-wide participants met for 10 days and recognised that social work is a global profession. The committees lost contact during the 2nd World War and reformed independently eventually becoming separate organisations. In the last ten years, the three organisations have jointly held conferences and developed closer working relationships around the Global Agenda for Social Work and Social Development. The experience of working together has highlighted both similarities and tensions.
IFSW comprises 128 national associations of social work or unions that need to comply with all the Federation's policies and ethical standards. IASSW is made up of individual members and a number of schools of social work that agree policies and actions to recommend to their members but are not binding. ICSW is the global body representing social services.
When asked why IFSW, ICSW and IAASW where not holding a joint conference in 2020, IFSW President Ruth Stark said, "We were shocked that IASSW and ICSW refused to consider any proposals to host the conference other than in Italy. The principle of rotating the world conference around the regions is critical to developing the global profession. This includes nurturing proposals from regions that have not held a world conference before or in a long time. IASSW and ICSW have decided on this occasion only to consider Europe, which is problematic to IFSW given that the 2018 conference is also in Europe as was the 2012 world conference. Whilst we respect their decision to hold a separate conference, we continue to invite IASSW and ICSW to join IFSW in 2020 and maintain the tradition".
Dr Truell's remarks on the need to join the professional social work organisation can be heard in the video below: