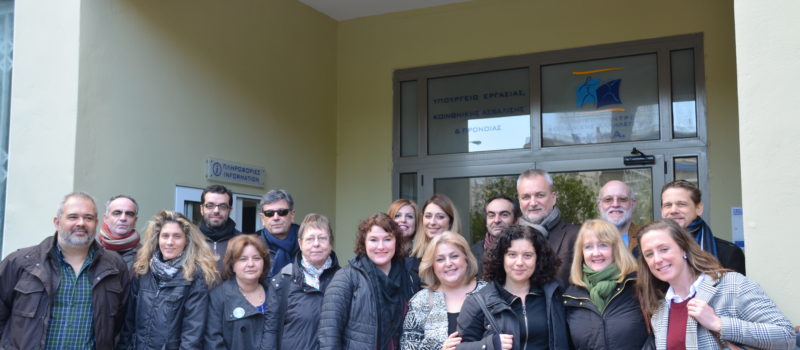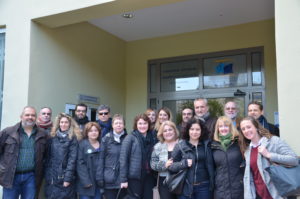 The International Federation of Social Workers bought together country representatives from Greece, Iceland, Ireland, Italy, Spain and UK to create links between the social workers in the austerity affected countries for shared learning, support, solidarity and joint action.
Thanks to the hosting and organisation of the Hellenic Association of Social Workers the representatives also visited many social work agencies in Athens. The outcome statement of the symposium is below followed by related videos from the visits to the social work agencies.
IFSW Statement from The Solidarity Symposium on Social Work and Austerity
Austerity is a flawed economic theory that increases debt burden, unemployment, homelessness, inequality and causes misery upon the lives of citizens. Social workers work every day with the negative realities imposed on people by austerity. We absorb the pressure of the painful and angry reality of the people most affected by austerity.
The method of reducing public expenditure combined with tax reduction for the wealthy reduces state income and fails to achieve balanced economies. This results in the widening of the gap in inequality and increases poverty. Social workers throughout the world witness which policies support people's wellbeing and healthy economic development; they also see which policies undermine social structures and fail people economically and socially.
Rather than being subject to political ideologies that prioritise profit and the financial sector over people, Social Protection Systems should be rooted permanently in the fabric of all societies. They should be entities that assist the transformation of society, through engaging communities in development and the realisation of all human rights. Beyond providing minimal cash hand-outs and access to limited health services, Social Protection Systems should support all peoples and build community capacity and democracy.
The professional social work associations of Greece, Iceland, Ireland, Italy, Portugal, Spain and UK have come together to campaign for governments that practice austerity to fulfil their responsibility to achieve social justice, rights and the well-being of all peoples that live in these states.
***
Social Workers work with people who use services and other partners to co-construct solutions to promote the building of social and economic capital. The shared plan will include the heightening of awareness of the critical impact of austerity on communities and individuals. This will incorporate a media strategy that will include a shared logo, use of social media, community actions for example a week of events, marches, films, media at national, European and global level. They will develop a video statement sharing different practices across borders, share information on the web, through the press and journals. A lobby strategy is being developed targeting governance organisations at national, European and global levels. This will include meetings with politicians, ministers and parliaments.
To facilitate these actions the group will appoint a co-ordinator, rotating through the associations on a yearly basis and be a point of contact for partners in this action plan. Ana Lima Fernandez will be the first coordinator for this project.
For more information contact:
or
IFSW Secretary-General, Rory Truell:
While visiting social services in Athens, IFSW Secretary-General spoke with social workers about working under austerity. Here are the videos links:
Social Worker Aggelos Tournikis talks with Rory Truell about 'Street Work' with people who are homeless during winter in Athens.
Social Worker Dina Vardaramatou from The Solidarity Centre in Athens talks about the Centre and what it is like being a social worker in austerity conditions.
Rory Truell asks Social Worker Stella about working in a Refugee Camp in Athens.
Rory Truell asks Ana Lima Fernandez, President of Consejo General del Trabajo (Social Work Council) about austerity in Spain and the social work response while they were both attending the 'Solidarity Symposium on Social Work and Austerity' in Athens Greece in January 2016 – subtitles will be added shortly –