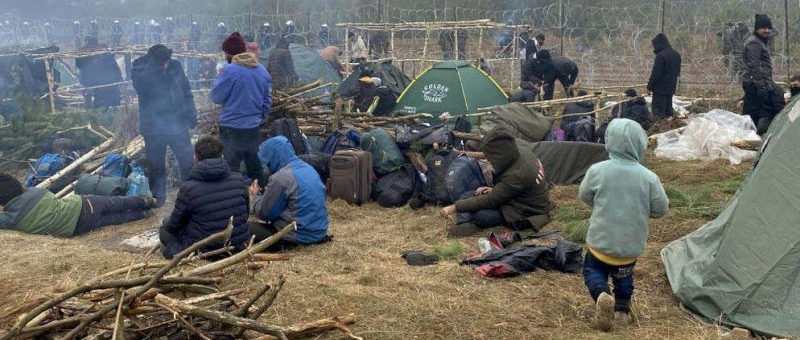 The images broadcast from Belarus mirror many other horrific situations around the world where the abuse of people is a product of failed political processes. It is illustrated by nation-states moving security and military forces to particular borders to prevent or force migration, leading to shattered lives and sometimes destabilized societies.
Migration is often fueled by the failures in broader political systems that have resulted in climate change, economic inequalities and war. These breed fear and persecution which force people to move from their homelands.  Global citizens remain deeply troubled by the horrific situation, the example of the growing number of people at the Belarus borders from many different countries and disasters, typifies the humanitarian crisis.
The history of political militarization illustrates that frequently it leads to widespread pain, trauma, war, terrorism and conflict. The world needs to learn from that history. The current global structures for preventing and managing these human-made disasters are not working. We, as global citizens, need to alter these geo-political dynamics to prevent and manage our reciprocal relationships peacefully and sustainably for the dignity and livelihood of all people.
Social workers who work across the world at the frontline are already aware of the needs of the refugees and working with them, responding to their different needs. The basis of this work is an understanding of the injustice caused by trafficking, smuggling, slavery or forced movement which results from criminal activities. This organized criminal activity is now causing deeper concern within global citizens when it is instigated by or developed with political-led nationalism.
IFSW and partner organisations, representing 100s of millions of people have already committed to the people´s summit ´Co-Building a New Eco-Social World: Leaving No One Behind´(LINK). This mass movement seeks to establish a new set of global principles and values that act as a reference point ensuring peace, trust, confidence, security and sustainability for all.
In the context of this global change, IFSW fully supports the call of action made by the Human Rights Commission – Europe and invites other associations to endorse and support the migrants/refugees by acting in solidarity with them.