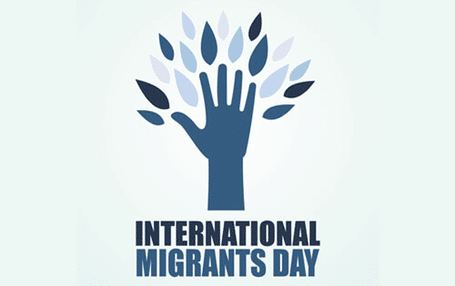 Over 270 million people a year migrate internationally. Among them are 20.4 million refugees. The International Federation of Social Workers (IFSW) Human Rights Commission observes International Migrants Day to honor and advocate for all migrants and their human rights.
While migration has been a key feature of global society for centuries, the events of the past few decades have significantly increased population mobility. The need for labor, both by workers and employers, has been a key driver for migration in the global economy. As the population structure of the Global North changes due to aging and lower fertility, the demand for younger workers continues. Labor migration accounts for two-thirds of global migration and serves as a major economic driver for destination countries that benefit from migrants' human capital and also sustains sending countries through vast remittances from migrants to their families at home. Indeed, migrants are a major source of entrepreneurship in host countries that also benefit those countries with cultural contributions to the arts, language, literature, cuisine, religion, and civil society.
Apart from global economics, however, other major forces that increasingly drive migration include climate change, natural disaster, civil unrest, political strife, war, genocide, crime, and corruption. Last year, over 79 million people were forcibly displaced. Of them, 45.7 million were internally displaced people compelled to move within their country by famine, conflict and human rights violations. More than 26 million people became refugees last year, half of whom are children. Refugees flee their countries due to conflict and persecution. While nominally protected by international law, they are among the world's most at-risk groups.
The growing rise of authoritarian and populist political movements in countries such as Turkey, Poland, Austria, Hungary, the United States, Brazil, Philippines, Russia, the U.K., Greece, Germany and elsewhere have presented a challenge to migration under evolving nationalist organizations and parties that increasingly employ racist and xenophobic language to rationalize closed borders. This phenomenon has grown during the pandemic which has provided a convenient rationale for migrant exclusion. Transnational authoritarianism in former liberal democracies has changed the international conversation on human mobility and resulted in suppression of migration and the granting of refugee status to vulnerable groups. The human rights of migrants and refugees have been increasingly violated as migrants are deported en masse, migrant children have been separated from parents, and refugees, asylum seekers and lawful petitioners for legal entry are placed in prolonged detention and deported without due process.
Social workers around the world continue to serve migrants and refugees in many ways – working to meet basic needs in refugee camps and resettlement centers, providing shelter and mental health services to newly arrived migrants, advocating for policy reforms that protect the rights of those who migrate, and working to reunite migrant children with their parents from whom they were inhumanely separated by immigration authorities.  The calling of social work requires that each serve to protect the human rights, dignity, and integrity of migrants and refugees and to work for a society in which the right of human mobility is unchallenged.
Statement issued by Dr Mark Lusk, IFSW Human Rights Commissioner, North American Region